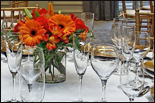 There is a lot to love about planning a second wedding. The bridal couple and guests are seasoned and relaxed; resources might be greater; and some of the tensions of more-youthful weddings have fallen away. Plan a second wedding to your heart's desire, be it small, with lots of elegant touches, or large and boisterous. When the day is over, Connecticut's large selection of romantic
inns
will provide a well-earned rest.
21 Lake Avenue Extension Danbury, CT, 06811 Phone: 203-744-1776 Toll-Free: 800-742-1776
When you find love a second time, celebrate with us
While a second wedding is usually a small affair, that's no reason to skimp on the romance. At the Ethan Allen Hotel in Danbury, Ct., you can exchange your vows in a charming gazebo surrounded by manicured gardens. At our hotel, you'll have plenty of options, no matter what size event you're planning. And whether your special day is large or small, you'll be surrounded by the exceptional style and elegance that's the hallmark of the Ethan Allen brand. Our talented staff can handle all the details, so you'll enjoy the ceremony without the stress. Spend your wedding night with us. Every room is furnished with an Ethan Allen supreme comfort mattress, with crisp European-style sheeting and other comfortable amenities.