Boutique hotels in Connecticut add extra luxury and elegance to your stay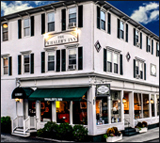 Boutique hotels in Connecticut -- a specialized form of the state's many fine
hotels
-- are known for their intimate charm and their high-end, personalized service along the European model.
In a CT boutique hotel, rooms are individually furnished with their own unique styles, and are equipped with a range of amenities that can include continental breakfast, free Wi-Fi, fireplaces, and lots of luxurious touches. Service is just personal enough, and attention to fine detail is a hallmark of these hotels.
Two Bridge Street Old Saybrook, CT, 06475 Phone: 860-395-2000 Toll-Free: 800-243-0212
Relax, unwind, enjoy the water views from this luxury inn
Tranquility awaits you at Saybrook Point, where lodging options range from cozy rooms and spacious suites in the main inn to accommodations for up to 16 in two historic Italianate guesthouses. Or, for those who truly want to get away from it all, there's the lighthouse suite on the main dock, with breathtaking views of Long Island Sound and the Connecticut River. Saybrook Point amenities include the luxurious on-site Sanno Spa, fitness center, indoor and outdoor pools and an award-winning restaurant (don't miss the astonishing Sunday brunch). Whether you are viewing the sun set over the water next to a rooftop fire pit or watching boats come in to the marina from your spacious suite, relaxation will be yours.
One Haynes Street Hartford, CT, 06103 Phone: 860-246-1881
Intimate experience in the middle of a vibrant city
The Goodwin, Hartford's premiere boutique hotel, was always a prestigious address. Built in 1881 as an apartment house, it was home to J.P. Morgan, among other luminaries. Its luster, including its terra cotta facade, now fully restored, the Goodwin features attention to detail in its service, guest rooms – including two-story duplexes with private entrances – and dining. Some of the rooms, done in chic white, black and gray with blue accents, have original fireplaces with modern mood-lighting candles. The hotel's Harlan Brasserie serves the finest in French-American cuisine, and the cozy Side Bar is known for its chic, social atmosphere and creative cocktails. In the hub of Hartford's shopping, dining, cultural and entertainment venues, the Goodwin is a cosmopolitan, yet intimate, hotel.
20 East Main Street Mystic, CT, 06355 Phone: 860-536-1506 Toll-Free: 800-243-2588
You Belong at the Whaler's Inn!
The Whaler's Inn is a charming boutique hotel located in the heart of Downtown Mystic. Guests will fall in love with our quaint New England charm, and our 5 distinctive buildings featuring standard rooms, luxury rooms, and classy décor. While you're here, enjoy an easy walk to downtown's lively Main Street with its specialty shops, fine restaurants & pubs and scenic Mystic River Park. Mystic Seaport is just a ten minute walk away too. The Inn also offers private baths, AC, Wi-Fi and many more amenities. Complimentary continental breakfast is served daily. An on-site Fitness Room & Business Center are added conveniences. Couples, business travelers, families, large groups or lonesome travelers are always welcome. Don't forget to check our monthly specials and packages!
607 West Thames Street Norwich, CT, 06360 Phone: 860-425-3500 Toll-Free: 800-275-4772
An inn surrounded by beauty, a spa that's sensual and sensational
Amid century-old oaks, perennial gardens and spring-fed ponds, the Spa at Norwich Inn invites guests to rejuvenate and relax. To that end, a vast menu of spa services includes several types of massage, facials, manicures, makeup tips and body treatments. The menu is also first rate at another inn amenity: Kensington's restaurant, where comfort food is given unexpected twists to delight diners. The inn's rooms, suites and getaway villas are thoughtfully decorated and appointed, with spa touches including plush robes. To complete your rejuvenation process, there's an indoor pool, fitness center, sauna and steam room, hot tub and a host of classes and demonstrations on everything from yoga, tennis and pilates to healthy cooking. Golf and great hikes are nearby.