Connecticut spas offer massage, facials, and vacation relaxation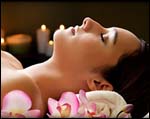 Are you looking for a spa getaway in Connecticut? Choices range from spas on the water in the Mystic area to the peaceful Litchfield hills. First, consider whether you are dreaming of a day spa service or an overnight getaway. Many
resorts
and hotels offer spa services and spa treatments, but they also welcome day visitors.
People looking for a weekend spa vacation or longer can find some good deals and packages by contacting resorts and hotels. Spa services are great for couples on a romantic trip, to groups like a girlfriend getaway, or to you just out on a solo search for some
luxurious pampering
. Spa treatments are a great enhancement to a
romantic getaway
.
Some lodgings, like the Spa at Norwich Inn, have made spa services their signature attraction. Some are near beaches or golf courses or shopping, to offer a variety of activities. All offer the essentials -- massage, facial, body wraps, scrubs, manicures, pedicures -- and some offer other creative combinations, like the ocean pearl & lavender scrub at Water's Edge Resort. Make the call.
Two Bridge Street Old Saybrook, CT, 06475 Phone: 860-395-2000 Toll-Free: 800-243-0212
Take the cure for what ails you at this elegant and celebrated Inn
Sneak away to a vibrant oasis of color, energy, and renewal. Here, by the tranquil edge of Long Island Sound, you will experience a refreshing escape from ordinary spas. Whether you desire a dip in the sparkling heated pools, an invigorating workout, or a private massage, the professional staff awaits to sweep you away. From hot stone treatments to European facials, the wellness services are the perfect complement to any New England vacation. Treat yourself to the luxurious array of features and services at this Connecticut getaway spa, including body wraps, scrubs, manicures, pedicures, sun decks, a sauna, and 11 different treatment rooms. Then make this your healing getaway anytime the need for one arises.
607 West Thames Street Norwich, CT, 06360 Phone: 860-425-3500 Toll-Free: 800-275-4772
Relax or re-energize at this elegant, state-of-the-art spa
Relax, rejuvenate, recover, re-energize: No matter your goal, the Spa at Norwich Inn has a treatment, class or program especially for you. Try the healing honey body wrap (with honey from the inn's own hives); an oatmeal cookie manicure or peppermint pedicure; or rain drop therapy with essential oils. De-stress with your choice of a hot stone, Thai or Swedish massage. Or let Ayurvedic, Reiki and other ancient healing techniques bring you balance and tranquility. Other spa services include an indoor pool, sauna and steam room, fitness classes (from meditation to morning hikes), healthy cooking demonstrations and the latest tips from makeup artists. Personal trainers will provide fitness profiles and a take-home fitness plan to keep you on track.
94 West Wharf Road Madison, CT, 06443 Phone: 203-245-1404
A body's favorite shoreline spa
A spa is as much a state of mind as a place or a set of treatments and therapies. Here, you can enjoy them all in a beachside retreat just made for providing those special touches to your relaxation needs and desires. The Sounds of the Sea Spa and fitness center will help strengthen and rejuvenate your mind and body. Stretching over three floors, the facility offers the ultimate work out and soul soothing opportunities in Connecticut, and conveniently located only steps from your guest room. The Spa's luxurious treatment rooms are your oasis for professional massages, facials, manicures, and pedicures wrapped in a tranquil atmosphere. Before or after your treatment, unwind in the relaxation room offering a soothing selection of imported teas, flavored waters, and healthy snacks.