Lots of well-planned biking trails criss-cross Connecticut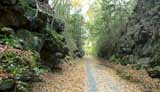 Almost all parts of Connecticut have formal biking trails that are well-maintained and rated for bicyclists of varying abilities. Renovation of old railroad tracks into bike-friendly rail trails is an ongoing project. Trails pass through and around cities and into the country side. A great place for bicycling is the
state parks
The southern section of the trail follows the Quinebaug River just south of Route 6 in Danielson. The trail starts where Main Street (Route 12) intersects Route 6. The trail is paved and is suitable for bicycles, wheelchairs, or strollers.
The northern section is also a paved trail that is suitable for bicycles, wheelchairs, or strollers. The trail starts at the Holiday Inn just west of the Attawaugan/Ballouville exit of 395 (exit 94) and goes north along Tracy Road toward Putnam. The trail ends on Tracy Road, but if you continue north into Putnam you can connect with the Putnam River Trail along the Quinebaug River.
Trail Surfaces: Asphalt Trail Activities: Bicycling, walking
Trail Length: 22.4 miles
Air Line Rail Trail follows the Air Line Railroad track, laid down in 1873. The south section of the trail stretches from East Hampton to Willimantic, with a link at its midpoint to a spur south to Colchester. (The northern section, from Windham to Putnam, is undeveloped, and too rough for bicycles.) Round-trip bike riders should start in East Hampton. Over the next 3 miles, you'll cross the Rapallo and Lyman Viaducts. The onward trail soars over streams and the broad Blackledge River before crossing a causeway through Raymond Brook Marsh.
An eighth of a mile from a trailhead and large parking area on State Route 85, the 3-mile Colchester Spur Rail-Trail joins the main line. Though a tad rougher, the spur offers an enjoyable ride through hemlock woods. You'll soon cross Route 85 and eventually emerge at an undeveloped trailhead anchored by the old Colchester Railroad Station. While you can continue on the Air Line several miles, the trail becomes rougher and less defined.
Parking and Trail Access:
To reach the western trailhead in East Hampton, take State Route 2 to Exit 13 and follow State Route 66 south for 4 miles. Turn left on State Route 196/Lakeview Street and drive a half mile, then turn left on Flanders Road and drive a quarter mile. Turn right on Smith Street; the trailhead is on the left.
The best eastern trailhead is at the junction of state routes 207 and 85 in Colchester. Take Route 2 to Exit 18, follow State Route 16 for a half mile, then turn left on Route 85. The parking lot is 4 miles down on the left.
Trail Surfaces: Asphalt, crushed stone
Trail Activities: Biking, horseback riding, mountain biking, walking, cross country skiing
Trail Length: 1.7 miles
The trail, which is 1.7 miles long, runs atop the flood control walls on the Naugatuck and Housatonic Rivers and is tied together by the portion of the trail running on O'Sullivan's Island. The trail links Derby to Ansonia and Shelton and also links the six major bridges in Derby. One of the centerpieces of the trail is the spectacular new pedestrian footbridge.
Trail Surfaces: Asphalt
Trail Activities: Bike, inline skating, wheelchair accessible, walking
Manchester/Vernon Border to Hop River State Park Trail Manchester, CT Phone:
Trail Length: 4 miles
This pretty trail network overlooks ravines and streams and passes between rock walls verdant with ferns and lichen. From the main trailhead hub on Church Street, the Vernon Rails-to-Trails Park offers three trail segments. Stretching west and then south, a 1.8-mile spur of the Hop River State Park Trail leads to the Manchester/Vernon town line. There is no formal trailhead at the end. From Church Street, you'll quickly pass the turnoff for the Rockville Spur on your left. The first mile links residential neighborhoods. Beyond Tunnel Road, the Vernon section of the trail leads through thick woods to the Bolton town line.
The 4-mile Rockville Spur negotiates a varied surface, sharing a sidewalk early on and crossing several roads. A half mile from the turnoff, you'll reach a bridge crossing of the Tankerhoosen River. Just shy of Vernon Avenue, the spur comes to an abrupt halt at a large earthen mound atop an old bridge abutment. At this point, you can either backtrack or carefully descend a 50-foot embankment to the left of the abutment to Rockville's surface roads.
Parking & Trail Access:
The Vernon Rails-to-Trails Park is on Church Street between Phoenix and Washington streets, a mile south of Interstate 84. From Hartford, take I-84 east to Exit 65 and follow signs to State Route 30 north. Turn right at the first traffic signal on Dobson Road and cross beneath the interstate. Dobson becomes Washington Street. A mile south, turn left on Church Street. Trailhead parking is ahead on the left.
To reach the trailhead from Exit 66, bear right on Frontage Road, then turn left on Tunnel Road. After a quarter mile, turn right on Warren Avenue. Drive a half mile, take a left on Phoenix Street, then take an immediate right on Church Street. Trailhead parking is on the right.
Trail Surfaces:
Crushed stone
Trail Activities:
Bike, mountain biking, walking, cross country skiing.
Trail Map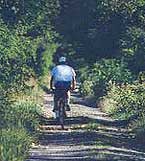 Canal Road in Suffield to Route 140 Mill Complex in Windsor Locks Suffield to Windsor Locks, CT Phone: 860-242-1158
Trail Length: 4.5 miles
The 4.5 mile Windsor Locks State Park Canal Trail follows the historic towpath of this 170- year-old historic waterway. The canal's many vantage points offer the trail user scenic vistas of both the Connecticut River and the old canal.

Parking & Trail Access:
To start at the Canal Road parking lot, take exit 47W off of I-91 and follow Route 190 West for 1.3 miles. Turn left onto Route 159 South and take the first left onto Canal Road and follow to the parking lot.
To start at the Route 140 Mill Complex parking lot, take exit 45 off of I-91 and go west on Route 140. Just after you cross over the Connecticut River there will be a Mill Complex on your right. Take the narrow road down along the canal to a parking lot. Seasonal Restrictions: The towpath is closed to all uses from mid-November until early April of each year. This is to protect the nesting habitat for endangered birds of prey.
Trail Surfaces: Asphalt
Trail Activities: Bike, fishing, walking
Trail Length: 40 miles
Running north from the Yale University campus in New Haven through the heart of Connecticut, the Farmington Canal Heritage Trail comprises several distinct segments totaling 40 miles of rail-trail. The trail follows the corridor of the defunct Farmington Canal. Segments are the New Haven section, Hamden to Cheshire section, Southington section, Farmington to the Massachusetts border section. See trail website for detailed directions.
Trail maps.
Trail Length: 8.5 miles
Farmington River Trail offers an 8.5-mile excursion along the scenic river by that name. The southern trail head at Tunxis Mead Park in Farmington also serves as a trail head for the Farmington Canal Heritage Trail. Be sure to follow signs to the river trail. The trail follows the bed of the former New Haven & Northampton Railroad. Two miles in, beyond its junction with State Route 177 in Unionville, the trail follows a quarter-mile road. Don't take the large bridge leading north; instead, carefully cross Route 177 at the crosswalk and head straight on Railroad Avenue.
At the road's end, thread the openings in the guardrail and continue straight on the dirt path; don't turn left uphill into the new development. The trail follows the dirt path for a half mile and then crosses River Road. The onward trail parallels the river on the right and Route 4 on the left. Over the next 3 miles the trail follows the remnants of an old road and passes a defunct hydroelectric dam. At 7.5 miles, a ramp climbs to a restored train bridge over the river. This gateway emerges on historic Collinsville, the end of the trail.

Parking & Trail Access: To reach the southern trailhead in Farmington, take Interstate 84 to Exit 38 and follow US Route 6 West. Drive 3 miles and turn right on Route 10 north. After a quarter mile, turn left on Meadow Road and continue a mile to the parking lot at Tunxis Mead Park, on the right. From the lot, take the sidewalk along Red Oak Hill Road for 100 yards, turn right, and cross New Britain Avenue to the trailhead. To reach the northern trailhead, take US Hwy. 44 to State Route 179 south. Collinsville lies a mile from this junction. Just before town, turn right on Gildersleeve Avenue, where the trail follows a boardwalk along the river. You'll find limited roadside parking here and additional parking in town.
Trail Surfaces: Asphalt, crushed stone, dirt, cinder
Trail Activities: Bike, inline skating, fishing, wheelchair accessible, mountain biking, walking, cross country skiing
Railroad Ramble
Route 41 and Main Street in Lakeville to Library Street in Salisbury Lakeville to Salisbury, CT Phone:
Trail Length: 1.7 miles
The Railroad Ramble occupies a corridor abandoned by the Central New England Railroad. In Lakeville, the trail can be found just off of Route 41 at the back edge of a recreational complex with ball fields and tennis courts. It is necessary to climb up an embankment to get onto the abandoned railroad corridor. The trail here is dirt and grass. The dirt and grass end at Walton Street where the trail shares the street's asphalt surface for a couple of blocks. At the end of Walton Street, the trail surface is dirt and grass until it ends at Library Street in Salisbury.

Parking & Trail Access:
The Railroad Ramble parallels US Route 44 in Lakeville and Salisbury. Trail users can access the trail from the ballfield at Route 41 and Main Street across from the fire station or Walton Street in Lakeville, Salmon Kill Road in Salisbury or via Library Street and Railroad Street in Salisbury. There is limited trail user parking in Lakeville and in Salisbury.
Trail Surfaces: Asphalt, grass, dirt Trail Activities: Bike, horseback riding, walking, cross country skiing
Trail Length: 2 miles
This 2-mile trail presents a great way to work up an appetite for a picnic at Stratton Brook State Park. A covered bridge provides access to the trail at midpoint. From the covered bridge, the shaded rail-trail shoots northeast and southwest along the right-of-way of the former Connecticut Western Railroad. After bridging Stratton Brook and rounding a gentle bend, the trail exits the park, ending at the Bushy Hill Road/State Route 309 intersection. You can access the canal trail by turning right on State Route 309 and following the shoulder a half mile.
For a slightly longer ride or walk, turn southwest from the covered bridge and cross Stratton Brook Road. From there, the old railroad grade is a paved but seldom used road for 1.7 miles, where it enters Massacoe State Forest.

Parking & Trail Access:
To reach Stratton Brook State Park, take Interstate 84 to Exit 50, follow US Hwy. 44 west for 9.5 miles, then turn right on State Route 10/US Hwy. 202 north to Simsbury. From town, head south on State Route 167/Bushy Hill Road, then veer west on State Route 309 for 0.9 mile. The park entrance is on the left.
Trail Surfaces: Asphalt, crushed stone, cinder
Trail Activities: Bike, wheelchair accessible, mountain biking, walking, cross country skiing
Housatonic Rail Trail in Trumbull (Pequannock Valley Greenway)

Tait Road to Old Mine Park Trumbull, CT Phone:
Trail Length: 3.4 miles
This fairly flat trail overlooks the winding Pequonnock River for much of its 3.4 miles. The trail starts at Tait Road with an asphalt entryway up a short hill. From Whitney Avenue to the Monroe town line the trail is paved with asphalt. As Route 25 crosses the railroad right-of-way, there is a short hill to climb in Parlor Rock Park to access the wooden bridge under Route 25. Through Old Mine Park, the trail parallels the park entry road. (Note that Trumbull restricts parking to residents).
Use caution when crossing Route 111. Shortly after Route 111, the trail splits: the original trail continues straight and a new trail, which is paved, but involves a climb, bears right and ends just before the Victorinox property in Monroe. From the Victorinox property, turn left and cross through the parking lot. Just after crossing a bridge, turn left on the dirt surface to resume the trail.

Parking & Trail Access:
To park near the old town hall, take State Route 25 to Exit 9 and turn south on Daniel's Farm Road. At the light, take a right on State Route 127, followed by an immediate right on Tait Road (not Tait's Mill Road) to the unsigned, six-car parking area beside the old town hall. The trailhead lies 50 yards down the road on the left.
Only permitted town residents can park at Old Mine Park; visitors may park on neighboring streets. To reach the park, take State Route 25 North to State Route 111, continue north on 111, and take the first right turn into the park. The signed trailhead is near the main parking area. The Whitney Avenue trailhead offers a larger parking area, but only town residents and state residents with fishing licenses may purchase the required permit.
Trail Surfaces: Crushed stone, dirt, cinder
Trail Activities: Bike, mountain biking, walking, cross country skiing
Middlebury Greenway
Junction of Routes 64 and 63 to Quassy Amusement Park Middlebury, CT Phone:
Trail Length: 4.4 miles
This asphalt path winds 4.4 miles through the residential community of Middlebury. While State Route 64 parallels the greenway for its entire length, the road won't lessen your enjoyment. The trail follows the contours of the land, making it hillier than a typical rail trail. If you're taking the trail out and back, travel east to west for an easier downhill return. Parking on the east end is also more convenient. The initial stretch is an in-town trail passing local businesses. Farther west you'll come upon two small nicely landscaped parks. Alternating between woods and residential areas, the trail continues 2 miles to Meadowview Park. Approaching the trail's west end, you'll overlook Lake Quassapaug and its sandy beach, and pass Quassy Amusement Park. The trail ends at an access road leading to a Little League baseball field.

Parking & Trail Access:
To reach the eastern trailhead, take Interstate 84 to Exit 17 and follow State Route 64 west. After going through one traffic light at State Route 63 junction, you'll see a parking lot on the right. The trail starts on the other side of 64.
To reach the western terminus from I-84, take Exit 16 and follow State Route 188 north for almost 3 miles. At the junction with State Route 64, you'll see Meadowview Park on the left. You may load or unload bikes in the baseball field's parking lot, but long-term parking is not an option.
Trail Surfaces: Asphalt
Trail Activities: Bike, inline skating, wheelchair accessible, walking
Providence Street to Arch Street Putnam, CT Phone:
Trail Length: 2 miles
This 2-mile biking and walking trail begins at Arch Street and winds its way north along the eastern shore of the Quinebaug River. The trail runs adjacent to Kennedy Drive for about 2 miles before terminating at Providence Street. The path of the trail runs through woodlands, two parks, an antique shopping district, and near revitalized mills. Five historic exhibits are located along the trail commemorating Putnam's railroad history, textile mills, and founding citizens. There are three bridges adjacent to the trail including a 200-foot pedestrian bridge. Each bridge offers scenic views of the river.
Trail Surfaces: Asphalt Trail Activities: Bike, walking
Charter Oak Greenway
Trail Length: 9.8 miles
The Charter Oak Greenway is a paved, multi-use trail connecting parks and the Captain John Bissell Greenway in East Hartford with residential and commercial areas. The trail runs for 9.8 miles from Forbes Street in East Hartford to Bolton, including a one-half-mile section using local roads. The trail provides seasonal access to restrooms, picnic areas, athletic facilities, tennis court, and playground equipment at Charter Oak Park. Bike lockers are available at the intersection of Route 83 and Charter Oak Street, as well as at the Spencer Street commuter lot. Trail users should note that some hills are quite steep.

Parking and Trail Access:
From I-384 eastbound (note greenway on right side), take exit 3 (Route 83). Turn right onto Route 83-North. Turn right at light onto Charter Oak Street. Turn right at next light into parking lot at Charter Oak Field. From I-384 westbound, take exit 3. Turn right at end of ramp onto Charter Oak Street. As above.
Trail Surfaces: Asphalt
Trail Activities: Bike, inline skating, wheelchair accessible, walking, cross country skiing