Connecticut (CT) Farms & Orchards, Pick Your Own Apples, Pumpkins, Fruit and Vegetables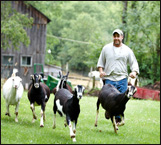 Much of Connecticut is farming country. Travel about a bit and you will find apple orchards; vineyards; fields of sunflowers; goat and alpaca farms that produce milk, cheese, and yarns; lots of
farmers markets
and
pick your own
farms and orchards.
Exploring the food traditions of any place is an avenue to that place's heart and history. Come, explore, and taste. Farm and food events can include dinners on the farm and farm tours; shopping at farm stands; and tastings of wine, cheese, and chocolate at Connecticut's many vineyards.
1355 Boston Post Road Guilford, CT, 06437 Phone: 203-453-2338
Since 1871, six generations of Bishops have been serving the shoreline with fresh farm products. Our farm market in Guilford is open year-round with one or more of our own products available each month of the year. Our "big red apple" is a landmark known to many. We have everything for your cost conscious meals and family gatherings, from wines and soup, salads, vegetables and fruits to prepared foods, including large trays of our most popular dishes! Don't forget cider, meats and of course pies! Our Farm Market, Winery and Bakery is open year-round. Treat friends and family to our variety of Farm Gifts and Fruit Baskets. Visit our Llamas, Alpacas and Goats! Watch our G Scale Train with cars from the NYNH Railroad circle above your head. Pick Your Own season is mid-June through late October.