Excursion trains show off Connecticut with old-fashioned luxury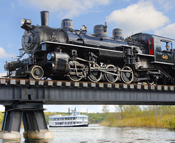 Excursion trains in Connecticut can take you to and through wonderfully beautiful places -- along rivers, across gorges, through mountains -- in a gloriously luxurious setting. This old-fashioned and relaxed way to see the beauty of Connecticut is a real treat for people on vacation. A great activity for children, parents, and older people -- a multi-generation day of
family fun
. Seasonal train excursions are offered for fall foliage, Christmas season, and others. Combine a train trip with a
scenic drive
and you will see some of the most glorious scenery in our country.
One Railroad Avenue Essex, CT, 06426 Phone: 860-767-0103 Toll-Free: 800-377-3987
A unique excursion through a unique landscape
Your 2½-hour excursion begins at historic 1892 Essex station. The first part of your trip is behind one of our steam locomotives—two of only 100 steam locomotives in service in the U.S.! That's down from 180,000 steam locomotives in the heyday of steam. Connect with the Becky Thatcher riverboat at Deep River Landing for a scenic journey through the Connecticut River Valley and discover one of "the last great places on Earth." The train then returns you to Essex Station. Rain or shine.