Connecticut amusement parks offer traditional rides, swimming, family fun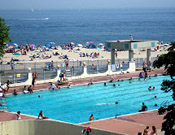 Connecticut's amusement parks -- from Ocean Beach in New London to Quassy Amusement Park in Middlebury, and more -- are a great haven for families with children, young folks, and singles looking for traditional outdoor fun, rides, games and competitions, pools and
water parks
, summer food, and other light-hearted
family fun
. The amusement parks of Connecticut have built a strong following in families generation after generation, a testament to their staying power for kids and parents.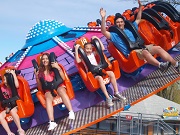 2132 Middlebury Road (Route 64) Middlebury, CT, 06762 Phone: 203-758-2913 Toll-Free: 800-367-7275
Celebrating over a Century of Affordable Family Fun
Quassy Amusement Park, founded in 1908, sits on the south shore of Lake Quassapaug in Middlebury, Connecticut. On its 20 plus acres, it boasts 22 rides including the award-winning "Wooden Warrior" roller coaster, new Frantic and Reverse Time thrill rides, a Grand Carousel, and a variety of family rides as well as attractions for the very young. Visit "Splash Away Bay", the sensational water park with new water slides and a splash pad just for the little guys. Cool off in Lake Quassapaug at Quassy Beach and cap off the day with a frozen treat from Quassy's Ice Cream Parlor. The park also offers an arcade, live entertainment, and a restaurant. Quassy offers the entire family affordable fun. Obviously, Quassy is the place for you!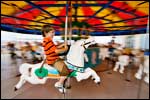 1225 Ocean Avenue New London, CT, 06320 Phone: 860-447-3031 Toll-Free: 800-510-7263
This park comes with amusements for visitors of all ages
People laughing on a busy boardwalk, children shouting as they run in and out of a sprayground, the sizzle of clam fritters cooking in a galley: That's the musical backdrop to the old-fashioned amusement park at Ocean Beach Park. Kiddie rides range from lovingly restored carousels to tiny trains and cars; for grown-ups, there's the Scrambler and the Octopus. But you can also play Skee-Ball in the arcade or 18 holes of mini-golf, get a soft-serve cone or conquer the triple waterslide. Check out special deals on kiddie rides and mini golf on Mondays and entertainment offerings, including movies, bands and fireworks, throughout the week.
Parking fees (includes park admission): Weekends $23, Weekdays $17, Weeknights after 6pm $8, Fireworks Evenings $10. Walk-in Admission $6.