Fun for children and families, from riverboats to dinosaur hiding places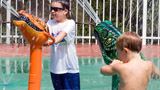 Family activities in Connecticut include things as diverse as tracking evidence of dinosaurs to exploring a shipbuilding village of 1830 to visits with Beluga whales. The state boasts lots of child-oriented and science-oriented museums that will keep kids occupied for hour after hours. There is lots to do, indoors and out, in all seasons of the year. Lots of resorts and hotels and inns welcome kids with
family friendly lodging
.
Schooner Wharf - 15 Holmes Street Mystic, CT, 06355 Phone: 860-536-0416
Haul Away! Bring the whole family sailing.
Sail away aboard the traditional sailing schooner Argia for a journey into the past. The adventure begins with a tour by water of the famous Mystic Seaport Museum and its Tall Ships. Join the crew, if you like, to raise sail the old fashioned way or lend a hand steering the ship. Pass through Mystic's Historic Bascule Bridge, a national historic landmark, as you slide down the Mystic River. Morgan Point Lighthouse and the quaint fishing village of Noank greet you at the river's mouth, followed by islands and peaceful sailing. Snacks and lemonade are provided.

May 1st through late mid-October, choose a half-day or sunset cruise aboard ARGIA!
1650 Hartford-New London Tpke. (Rt. 85) Oakdale, CT, 06370 Phone: 860-443-4367
The dinosaur place to be and see
Get away from the computer and the phone and step into nature with the family at this fascinating dinosaur themed park. There's a bevy of outdoor and indoor hands-on activities sure to please kids of all ages and their grownups too. Stand close to 40+ life-sized dinosaurs on 1.5 miles of easy walking Dinosaur Trails. Get lost in the mammoth sized Amazeasaurus and connect with real wildlife at Raptor Bay. Step up and up at Monty's playground while Splashpad®, New England's largest, has waterfalls, water cannons, a spitting Stegosaurus and more. Look for gems, pan for gold or unearth fossils together and take part in cool hands-on science activity at Discovery Depot. Exercise, explore and learn in a fun filled atmosphere of high adventure. Dinosaur themed party packages are available.
77 Forest Street Hartford, CT, 06105 Phone: 860-522-9258
The Family Tour introduces kids to Harriet Beecher Stowe
Who was the most famous American woman in the 19th century? Abraham Lincoln is reputed to have greeted Harriet Beecher Stowe with "So you are the little woman who wrote the book that started this great war." At Hartford's Harriet Beecher Stowe Center, your kids will learn about Stowe, the internationally famous author of the selling anti-slavery novel Uncle Tom's Cabin. The Family Tour – specially sized for kids 5-12 (accompanied by an adult) - brings the life and impact of Connecticut's First Lady of Literature to light for families with story-telling, journaling and historic letters! Weekends and school vacation weeks at 1:30 PM. Reservations suggested: 860-522-9258 x 317 or Info@StoweCenter.org.
1355 Boston Post Road Guilford, CT, 06437 Phone: 203-453-2338
Find fantastic family fun and support your local farmer
Almost nothing beats family fun like picking up fresh produce right from the farm. Open year-round, Bishop's Orchards continues a 144-year tradition on 313 acres where you can pick strawberries, blueberries, raspberries, peaches, pears, apples, and pumpkins. The farm market has grown from a roadside stand to a wholesale supplier of fruits and vegetables to New York and New England. It's also a thriving retail market, fully operating bakery, specialty food grocer and most recently, a winery. The kids will love the llamas, alpacas and goats and the G-Scale train with cars from the NYNH Railroad circling overhead. Get your farm fresh produce and an authentic farm experience at the same time. Look for the "big red apple" known far and wide.
55 Coogan Boulevard Mystic, CT, 06355 Phone: 860-572-5955
New England's Interactive Aquarium
At Mystic Aquarium, learning meets fun with interactive experiences, captivating exhibits, and animal adventures. Meet New England's only beluga whales and see over 300 species of animals including African penguins. Touch a shark, reptile, or crustacean and hand-feed the stingrays. Treat the family to a penguin or beluga encounter. Explore ecosystems from around the globe at Exploration: WILD! Relax and enjoy a free show featuring California sea lions in the Foxwoods Marine Theater! Indulge your senses in our 4-D Theater and expand your mind with films in the National Geographic Theater. Starting Oct. 22–24 and 29–30, meet Captain Sharkey, check out underwater pumpkin carving and trick-or-treat your way through Exploration: WILD! Visit MysticAquarium.org to plan your visit.
One Museum Drive Greenwich, CT, 06830 Phone: 203-869-0376
Kids are welcome to explore the natural world at Bruce Museum
Turtles. Fossils. Ants. Seaweed! Think you're going to keep the kids out? Part of the mission of the Bruce Museum is education about the world around us, through the works of artists and hands-on exploration that can get muddy at times. The Bruce Museum welcomes adults and children to puzzle over paintings and pore over penguins. The Museum's Seaside Center, in Greenwich Point Park, Old Greenwich, provides additional opportunities for families to explore and learn about the natural world. Squid dissection, seaweed pressing, animal feedings, and crab tracking are some of the activities that enthrall the kids. You might even find youngsters peering through microscopes or listening to scientists spin tales of adventure.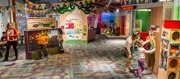 Matthews Park - 303 West Avenue Norwalk, CT, 06850 Phone: 203-899-0606
A "wow" experience for all ages, even adults!
Stepping Stones Museum for Children in Norwalk, Conn., our mission is to inspires lifelong learning. We do that with fun and fascinating exhibits. Climb aboard our solar-powered train, and (weather permitting) take a ten-minute trip through Matthews Park. Wander about our garden and listen while whimsical sculptures use sun, wind, and water power to produce musical sounds. In our Energy Lab kids are mesmerized by a raceway powered by water, or when balls are whisked away down a wind-powered maze. They'll learn about evaporation first hand by painting with brush and water, and then seeing their paintings disappear. We have exhibits designed for all ages ten and under, including toddlers and infants. Adults will be fascinated, too.
One Railroad Avenue Essex, CT, 06426 Phone: 860-767-0103 Toll-Free: 800-377-3987
Much more than a Choo Choo
Climb aboard the only steam train and riverboat connection in the U.S! Kids will enjoy riding in the vintage coaches alongside farms, ponds, and boat yards, and spotting swans, ducks, and egrets. The 12-mile, narrated roundtrip brings passengers to Deep River Landing, where the riverboat continues the adventure with a 1¼-hour cruise on the breathtaking Connecticut River. The steam train returns visitors to Essex station. Throughout the year, there are several special events specifically for kids: In April and May, Day Out with Thomas; In July, Circus Train; mid-November through December, Santa Special (daytime) and North Pole Express (nighttime).
1225 Ocean Avenue New London, CT, 06320 Phone: 860-447-3031 Toll-Free: 800-510-7263
Rated one of the best beaches by National Geographic
There's family fun and more at Ocean Beach Park. New this year is our Splash Park for kids under 8. For more water fun we have the ocean, of course, an Olympic-size swimming pool and triple waterslide. Our award-winning lifeguard staff is on duty for your safety. For more fun we have rides, mini-golf, and a Family Fun Center with a video arcade. Kids can enjoy our playground and adults can work out in the health club. The nature walk and observation deck let you enjoy our natural beauty. When all the activity makes you hungry you have dining choices; our full-service restaurant, a food court, or ice cream stands. Ocean Beach Park can also accommodate picnics and corporate events. Our nightly entertainment schedule includes Classic Car Cruises on Mondays; kids movies on the beach Tuesday; live magic on Wednesday; Sock Hop on Thursday; and live bands on Friday.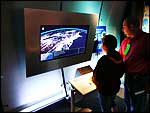 250 Columbus Blvd. Hartford, CT, 06103 Phone: 860-724-3623
Science learning that's fun for the whole family
This is a high impact and highly entertaining science learning adventure for the whole family. 150 hands-on exhibits on the body, sight and sound, energy, sports, and much more, plus daily and overnight programs and events bring science to your fingertips in a green, clean, bright, and stimulating environment. The 3D theater employs the coolest digital technologies with stadium seating that ensures there isn't a bad seat when the action comes to life on the giant screen with an incredible sound system and 3D glasses to make the experience sharper and brighter than you could ever imagine. Perfect for birthday parties, scouts and other outings and events. Hours: Tuesday-Sunday, 10 a.m.-5 p.m. Admission: Adults, $21.95; seniors above age 65, $19.95; youth ages 3 to 17, $14.95.
Maritime Aquarium at Norwalk
10 North Water St. Norwalk, CT, 06854 Phone: 203-852-0700
Kids and parents can visit nose-to-nose with sharks, seals, river otters, wrinkly sea turtles, and stinging jellyfish. Educational public cruises, changing exhibits, a working boat shop, hands-on touch tanks, toddler play area, and an IMAX movie theater with a screen that's six stories tall make this a place of seafaring adventure.
The Bushnell Park Carousel
Jewell Street at the Memorial Arch Bristol, CT, 06010 Phone: 860-585-5411
Kids and adults both are entranced by this hand-carved carousel with 48 horses, two chariots, stained glass windows, mirrors reflecting 800 twinkling light bulbs, and a Wurlitzer band organ. Open May to October, Tuesday to Sunday; September and October, Thursday to Sunday. Call for seasonal changes in hours.
This nature center is a wonderful place for kids to run, play, climb, explore, and also learn about nature. There is a large variety of interesting activities. Open daily, year-round. See
full description
of Ansonia Nature and Recreation Center.
Beardsley Zoo
1875 Noble Ave. Bridgeport, CT, 06610 Phone: 203-394-6565
This zoo exhibits hundreds of animals, from tigers to monkeys and everything in between. Habitats for children to explore include a South American rainforest and a New England farmyard. For quite time, there is a picnic grove, carousel, Victorian greenhouse, and café. Summer programs include Animal Tales and A Day at the Ocean.