Campgrounds in Connecticut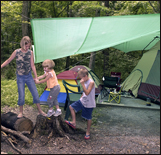 Campgrounds with reasonable rates operate at 13 state parks and state forests, mostly in the Litchfield and Mystic regions. The state Department of Environmental Protection offers information about camping on its
website
. Starting in summer 2016, as a cost saving measure, three state campgrounds – Devils Hopyard in East Haddam; Salt Rock in Baltic; and Greens Falls in Voluntown -- will close after the July 4th holiday. All other state park and forest campgrounds will close after Labor Day. Exceptions: Hammonasset Beach and Rocky Neck state parks' campgrounds will remain open through Columbus Day weekend.
In addition, Connecticut has several private campgrounds. Campgrounds offer a wide variety of amenities in terms of bathrooms, showers, dumping and hookups. Be sure to contact individual campgrounds for detailed information.
Route 45 New Preston, CT Phone: 860-868-2592
Beautiful lake for swimming, paddling (car-top boating), and picnicking
Dozens of campsites are situated in wooded and open settings at Lake Waramaug Campground. The camping season is from mid-May to September 30.
Park map.
See
full listing
for Lake Waramaug State Park.
Between Center Hill Road (Route 181) and East River Road [see map] Barkhamsted, CT Phone: 860-379-0922
Large forests offer all outdoor recreation: camping, water sports, extensive hiking trails
Thirty spacious campsites are available at American Legion State Forest.
Campground map
for American Legion State Forest
See
full description
of American Legion and Peoples State forests
244 West Main Street (Route 156) East Lyme, CT Phone: 860-739-5471
Sandy beach; picnicking; walking trails; fishing; camping
Camping close to Long Island Sound at this pretty and diverse park, with lots of daytime activities. Park has 160 wooded or open-air campsites. There is a camping fee.
Camping map
See
full description
of Rocky Neck State Park.
366 Hopyard Road East Haddam, CT Phone: 860-873-8566
Popular hiking and camping area with scenic picnic spots and fresh-water fishing.
The 21 wooded campsites in this park are located near a beautiful waterfall. Open in April; campground closes after July 4th. See
full description
of Devil's Hopyard State Park.
159 Macedonia Brook Road Kent, CT Phone: 860-927-4100
Macedonia Brook State Park offers 51 sites in a rustic setting. The camping season begins in mid-April and ends September 30.
Camping map.
1288 Boston Post Road Madison, CT Phone: 203-245-2785
Very large park on Long Island Sound offers swimming, salt water fishing, boardwalk, lots of camping sites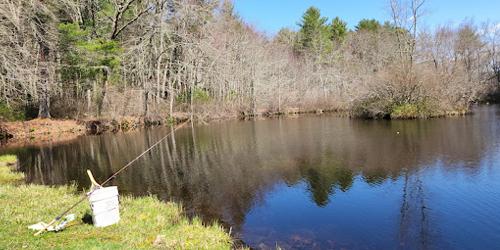 Route 49 Voluntown, CT Phone: 860-376-4075
Large state forest covers all basics, camping, hiking, water sports, horseback riding, snowmobiling
This very large state forest has three campgrounds, including spaces for horse camping.
Forest map.
See
full description
of Pachaug State Forest.
Route 7 Sharon, CT Phone: 860-927-3238
Wooded campgrounds; fly fishing for trout and bass in the Housatonic River
Housatonic Meadows offers many outdoor activities, especially fly fishing.
Camping
is done in groves of tall pine trees. Housatonic Meadow Campground has 95 sites; the camping season begins in mid-May and ends September 30. Campground has bathrooms and showers.
Campground map.
See
full description
of Housastonic Meadows State Park.
147 Wolf Den Drive Pomfret Center, CT Phone: 860-928-6121
Good park for camping, swimming, boating, hiking; cool rock formations to explore
The Mashamoquet Brook Campgrounds are open from late May through the end of August. Wolf Den Campground, at 147 Wolf Den Drive, (Route 44), Pomfret, has 53 open sites. Bathrooms, showers, dumping station. Fishing, hiking, swimming nearby. No pets. Mashamoquet Brook Campground, at 320 Mashamoquet Road, (Route 44) Pomfret, has 20 wooded sites. Dumping station nearby. Fishing, hiking, swimming nearby. No pets. Per night cost is $14 for CT residents and $24 a night for non-CT residents. For
campground reservations
call 860-928-6121
See
full description
of Mashamoquet State Park.
Campground map.
West Thompson Lake Campground
Reardon Road Thompson, CT Phone:
Open: Mid May - Mid September
Family campground run by the U.S Army Corp. of Engineers. 23 campsites are available, as well as electric hookup, boating, hiking, fishing and some planned activies.
Salt Rock Campground
173 Scotland Road (Rte. 97) Baltic, CT Phone: 860-822-0884
71 tent and recreational vehicle (RV) sites. Utilities to some sites, bathroom, dumping station, showers, in-ground swimming pool. Two pets/site permitted. Fishing by permit along the Shetucket River with over one mile of waterfront access. Permits may be obtained at the Salt Rock State Campground office. Open May through July 4th holiday.