Fresh Water Beaches in Connecticut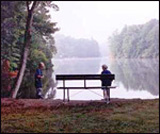 Connecticut has many state and local parks that are well-maintained with lots of amenities for a family vacation. Some of these include sandy, fresh-water beaches on lakes and ponds. Many offer playgrounds, changing rooms, refreshments, and other treats to enjoy a full day on the lake.
If salt water combined with ocean waves is your favorite, check out details about the state's
beaches
on Long Island Sound.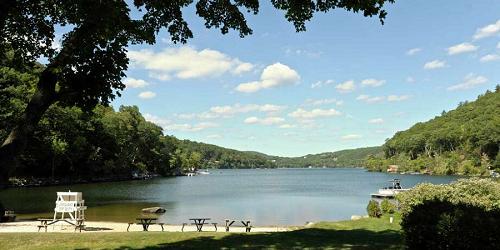 30 Lake Waramaug Road New Preston, CT Phone: 860-868-2592
This clear, crisp freshwater lake in a state park western Connecticut offers swimming, fishing, and boating for cvartop and hand-carried vessels. The surrounding hills are visit all year, and especially beautiful in fall. Canoes and kayaks are available for rent. Lifeguards are usually on duty weekends and holidays from 10 a.m. through 6 p.m. Memorial Day through Labor Day. Lifeguards may also be scheduled on weekdays.
4 Straits Tpk. Middlebury, CT, 06762 Phone: 203-729-8840
Day park offers water sports on the lake, picnicking, fishing, and trails for walking
This nice day park is centered upon Hop Brook Lake. The lake has a sandy beach and is open for swimming, paddling, rowing, and fishing. Fishing may be done on the lake and its streams, which are stocked with brown, brook, and rainbow trout. Bass and panfish are also found in the lake. Hikers will find over seven miles of trails winding through the woods and meadows at Hop Brook Lake. An 11-hole disc golf course is also located within the park. Facilities include flush toilets, drinking water, ball fields, volleyball courts, and horseshoe pit.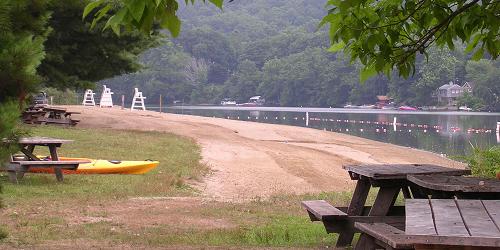 Howe Avenue Shelton, CT Phone: 203-735-4311
Sweet riverside park for water sports and picnicking. Easy walking trails along the river.
This park on the Housatonic River has places to swim and enjoy other water sports. Also has shaded picnic areas. See
full description
of Indian Well State Park
Lake Mohegan
Tahmore Road, off the Merritt Parkway at Exit 15 Fairfield, CT Phone: 203-256-3010
Lake Mohegan, located at 960 Morehouse Highway in Fairfield, is a big, sandy beach with little shade alongside a kiddie sprinkler park, with a snack shack, a playground, and restrooms. Season & Hours: Memorial Day Saturday - Labor Day. Free parking; admission fee charged.
149 Farms Village Road (Route 309) Simsbury, CT Phone: 860-242-1158
Wheelchair-accessible park has trout fishing, hiking, sports fields, swimming
384 Burr Mountain Road Torrington, CT Phone: 860-482-1817
Pond has beach for swimming, canoe & kayak rentals, trails around the shoreline; lifeguards on weekends
Visitors can enjoy swimming from the beach, picnicking, hiking the perimeter of the pond, and boating at this pretty park. Visitors may
rent
canoes and kayaks.
Hiking map.
929 Hopeville Road Griswold, CT Phone: 860-376-2920
Freshwater swimming, fishing in Hopeville Pond. Campground in woods.
This nice day-use and overnight park has a swimming beach and boat ramp. See
full description
of Hopeville Pond State Park.
Lake Quonnipaug
Route 77 Guilford, CT Phone: 203-245-2785
Beach and swimming area in a fresh water lake. Admission: $4 per person Monday - Friday, $6 per person Saturday - Sunday.
18 Ranger Road Haddam, CT Phone: 860-566-2304
Large state forest; good for fishing, hiking & walking, horseback riding, snowmobiling
Freshwater swimming in various bodies of water of all sizes, from ponds to lakes to reservoirs, at Cockaponset State Park. Most people swim at Pattaconk Lake Recreation Area, which is a natural lake; it has no sandy bech.
Fees:
Memorial Day to Labor Day: Weekends, $9 for state residents and $15 for out-of-state residents; weekdays, parking is free.
See
Cockaponset State Park
for full description of this park.