Fine performances attract audiences in Connecticut's many theaters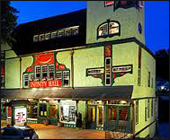 Connecticut has many excellent theaters -- such as the historic Shubert Theatre in New Haven, where many Broadway hits first opened -- that offer plays, concerts, staged readings, dance, acrobatics, and much much more.
Every region has its jewels of performing arts with strong seasons, both year-round and summer stock. For live performances of music, plays, comedy, and acrobatic arts, check the Connecticut
Events
page frequently.
103 Main Street Ivoryton, CT, 06442 Phone: 860-767-7318
Great theater year-round in an historic setting
The Ivoryton Playhouse is located in Ivoryton, a beautiful section of historic Essex, on the banks of the Connecticut River. The Playhouse has been an important part of Connecticut's cultural landscape for over 100 years. The theatre presents a year-round program of professional theatre, drawing audiences from New York and New Jersey to Massachusetts. The 280 seat theatre is comfortable, air-conditioned and is conveniently located off major highways and close to other great attractions such as Gillette Castle, The Connecticut River Museum, Essex Steam Train and two factory outlet shopping centers.
Garde Arts Centre
325 State Street New London, CT, 06320 Phone: 860-444-7373
Garde Arts Center presents live theatre including Broadway touring shows, dance, music and family theatre. The Garde is the home of the Garde Institute of Creativity. For tickets please call our box office or buy online at www.gardearts.org.
Infinity Music Hall & Bistro Norfolk
20 Greenwoods Road West Norfolk, CT Phone: 860-542-5531
This is an intimate performing arts venue located in a historic building from 1883, designed by the eminent architect Stanford White. The Hall hosts live acts of national caliber, and it also operates a bistro, serving contemporary American style fare. A sister venue, also named Infinity Hall, operates in Hartford, CT. Information: www.infinityhall.com/Venues/Infinity-Hartford/
Eugene O'Neill Memorial Theater Center
305 Great Neck Road Waterford, CT, 06385 Phone: 860-443-5378
The Eugene O'Neill Theater Center, founded in 1964 and based in Waterford CT, is dedicated to the advancement of new work for the theater and creates and operates programs which complement that goal. These include the Puppetry Conference, Playwrights Conference, Critics Institute, Music Theater Conference and the National Theater Institute, a college-accredited training program for theater artists. The O'Neill also owns and operates the Monte Cristo Cottage, childhood home of America's only Nobel Prize-winning playwright, Eugene O'Neill, and holds an annual celebration honoring the life and works of its namesake every October.
Schubert Theatre
247 College Street New Haven, CT Phone: 203-562-5666
The Shubert Theatre is a 1,600-seat East Coast theatre located at 247 College Street in New Haven, Connecticut. Originally opened in 1914 by the Shubert Organization, the Shubert, from its earliest days, was the place of brilliant acoustics where major producers open shows before taking them to Broadway in New York. Although the Shubert is best known for theater, it also has presented to the public some of the greatest artists of the ballet, opera, classical, and popular music. It is currently operated as a non-profit organization by The Connecticut Association for the Performing Arts. Information: http://www.shubert.com/
Infinity Music Hall & Bistro Hartford
32 Front Street Hartford, CT Phone: 860-560-7757
Located on Front Street in the heart of Hartford, Infinity Music Hall & Bistro is a small and wonderfully acoustic performance space married to a bistro, serving American contemporary fare, and especially enjoyed by guests who dine before attending performances. Modeled after the Infinity Music Hall in Norfolk, CT, Infinity Hall Hartford includes a 500-seat music hall that hosts 250 live music and comedy shows a year. Information: http://www.infinityhall.com/Venues/Infinity-Hartford/