Waterfront Wedding Venues in Connecticut (CT)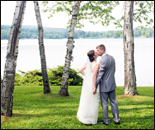 Connecticut's waterfront is dotted with parks and coves and – importantly – lodgings, inns, and
beach and ocean resorts
that are ready and able to create a beautiful wedding, with the sea and the sky as a gorgeous backdrop.
Lawns and gazebos can be organized to beautiful effect for a wedding on the water, along with all the other plans and details a perfect wedding requires. Your guests will love you for your efforts.
74 Interlaken Road (Route 112) Lakeville, CT, 06039 Phone: 860-435-9878 Toll-Free: 800-222-2909
At Interlaken Inn, enjoy beautiful surroundings on your special day
Say "I do" at Interlaken Inn and you'll enjoy exceptional service, hand-tailored menus, and inviting overnight accommodations, all at a beautiful lakeside location in Connecticut's Litchfield Hills. The Inn hosts only one wedding per day to insure that our focus is entirely on you. We offer 30 acres of English cottage-style gardens and manicured lawns, a stunning backdrop for a memorable wedding. After a lakeside ceremony, celebrate in our Vineyard Room, Continental Room, or Pavilion Garden. Before dinner enjoy a champagne toast and butler-passed & hors d'oeuvres. Sunday night guests may spend the night at a preferred rate. Planning a smaller affair? We can offer a package for 5 to 50 people. The Inn in available for winter weddings as well, at the very best rates of the year.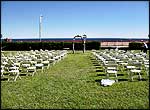 1225 Ocean Avenue New London, CT, 06320 Phone: 860-447-3031 Toll-Free: 800-510-7263
Enjoy the sound of waves splashing and friends celebrating
Take your wedding vows where fun and families have been meeting for decades. Overlooking Long Island Sound, the park offers waterfront weddings and receptions at the Port 'N' Starboard, one of the area's largest year-round gourmet banquet facilities. For smaller gatherings, you'll find the same great packages available in the Pilot House and the Nautilus Room. Celebrate your Storybook or Deluxe wedding right on the beach called "one of the best" by National Geographic. Connecticut's southern shore is the perfect destination and you'll love the setting and the food. Menus include hot and cold hors d' oeuvres, appetizers, seafood, beef and chicken entrees. Give your toasts with champagne and the one hour open bar features house brand liquors, wines and draft beer.
Two Bridge Street Old Saybrook, CT, 06475 Phone: 860-395-2000 Toll-Free: 800-243-0212
Call Saybrook Point Inn for a truly memorable waterfront wedding
At Saybrook Point Inn & Spa in Saybrook, Conn., we pride ourselves in making your special day nothing short of exceptional. No need to worry about the details; we're here to take care of you. Our expert planners will make every moment delightful. We can help you find a deejay, a hair stylist, a photographer, a videographer, a bakery or other vendors known for professionalism and customer care. Dance the night away in our Waterfront Ballroom. We offer a number of packages to match your budget -- from a buffet dinner to formal plated seating. Choose from our selection of delicious appetizers and entrees, such as wild mushroom soup, New England-style crab cakes, and Stonington sea scallops with potato lobster cakes.