Vineyards & wineries in Connecticut offer tours, tastings, events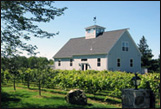 Connecticut's vineyards and wineries are a growth industry that welcomes visitors of all kinds, from the expert to people who are simply curious about wine. The Connecticut Wine Trail is a network of two dozen vineyards and wineries all over the state that offer coordinated events and hospitality to the wine-loving public. A Winter Wine Trail is accumulating fans who want to keep exploring during the colder season. Many vineyards host great events combining wine,
food
, music, and hospitality.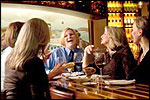 36 Main Street Essex, CT, 06426 Phone: 860-767-1776
At Griswold Inn, enjoy a flight in a wine glass
Historic Griswold Inn, situated on Main Street in picturesque Essex, Conecticut, is a haven for wine lovers. Our award winning wine list offers more than 50 wines by the glass. In our exquisite Wine Bar, enjoy a wine flight that will take you from one taste sensation to another to another. Our talented chefs prepare stylized dishes that are widely acclaimed and hand-crafted desserts you will find no where else. We offer innovative tapas, inspired macro plates, and artisanal cheeses. Our staff can suggest the ideal wine to accompany every selection. You'll enjoy this repast in one of the country's oldest inn, where every effort has been made to preserve the historic character. You'll be surrounded by art work from our acclaimed collection.
A coastal journey for a tasting of the grape
Southern New England revels in vineyards and wineries that comprise equal parts of the Connecticut Wine Trail, now one of the fastest growing wine regions in the country. With beautiful coastal scenery and delicious and differing wine styles, you'll find new and generations-old businesses serving more sophisticated tastes with the same traditions-old blend of hospitality and a great product. Take a tour, enjoy a tasting, and the many special events held each year to promote great wines and the Wine Trail. You'll find myriad wines and accessories, as well as meats, cheeses, baked goods and other treats produced right there on the farm. You can bring the whole family and spend an afternoon escape out in nature and a glass or two of nature's very own special nectar.