Shellfishing requires a sense of adventure, but little equipment or expertise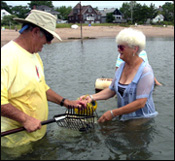 Recreational shellfishing (or clamming or clam digging) in Connecticut is limited to approved areas. People shellfishing for recreation should contact the town health department where they wish to fish to find out where shellfishing is allowed, whether a local license is required, and other local shellfishing laws. Know the local rules on catch limits, size limits, and allowable tools to use. It's a fun sport and great way to get out into
nature
and enjoy the state's waterfront environments.
For more information, refer to the
Connecticut Department of Agriculture
or call the department at 860-713-2500.
Find lots of good information in Connecticut's
Guide to Shellfishing
.
Darien Town Hall and Health Department, Renshaw Road Darien, CT, 06820 Phone: 203-656-7320
People age 16 and older must have a permit to shellfish in Darien. Permits are issued by the Town of Darien Health Department. Children may harvest shellfish without a permit if accompanied by an adult with a permit.
Fees: Annual fees are Darien and Stamford residents, $20; senior residents age 65 and over, free; non-resident, $40
Information: Please call the Shellfish Hotline at 203- 838-9807 to check whether the area is open or closed.
Bureau of Aquaculture, 190 Rogers Avenue Milford, CT Phone: 203-874-0696
Permit is not required for recreational shellfishing in Milford waters. There is no charge for shellfishing. Maps available at the office of the Bureau of Aquaculture in Milford.
Information and maps.
Guilford Town Hall, 31 Park Street Guilford, CT, 06437 Phone: 203-453-8001
A license for shellfish in Guilford is required for each person age 13 or older. Shellfishing is permitted year-round between sunrise and sunset only.
Permits: Permits can be purchased at Guilford Town Hall Town Clerk Office, 31 Park Street, Monday-Friday, 8:30 a.m.-4:30 p.m. (203-453-8001); Captain Morgan's Bait and Tackle, 21 Boston Post Road, Madison, (203-245-8665); and Guilford Lobster Pound, 505 Old Whitfield Street, Guilford, (203-453-6122)
Fees: Resident, $20; senior resident, $10; non-resident, $75; daily, $25.
Shellfish hotline: 203-453-8088.
East Lyme Town Hall, 108 Pennsylvania Avenue Niantic, CT, 06357 Phone: 860-739-6233
Purchase permits at East Lyme Town Hall; local bait and tackle shops; shellfish warden office at state launch ramp. All shellfishing is by permit only. The conditionally approved areas open and close for shellfishing dependent upon the season and/or rainfall. Niantic Bay Fishing Grounds
map.
Information:
860-739-6233
33 Laurel Street Branford, CT, 06405 Phone: 203-488-8394
Permits are available from the Town Clerk's office or from a Shellfish Commission member. Permits are required for any person age 16 or older taking shellfish. Permits are valid for the calendar year they are purchased.
Fees: Resident, $5; non-resident, $50; non-resident daily, $10; Branford seniors age 65 and older, free.
Information: Call 203-315-0678 for current information.
Madison Town Hall, 8 Campus Drive Madison, CT, 06443 Phone: 203-245-5600
Licenses for recreational shellfishing are available at the Town Clerk's office and from authorized agents (usually local sporting goods stores). Licenses are required to harvest clams, oysters, and mussels, but not scallops, crabs or lobsters.
Fees:
$20 for taxpayers; $10 for senior taxpayers; $75 for non-taxpayers. Licenses are valid for one year from date of issue. Licensed Madison residents may be accompanied by one adult guest who shares the daily limit. Children under 16 years may accompany license holders provided they share the limit.
Limitations:
All shellfishing waters are closed for at least one week after a 3-inch rainfall event, regardless of above category. Recreational shellfishing is permitted only in approved and conditionally approved areas, which may or may not be open depending on rainfall and bacteriological testing. The boundaries between the areas are marked by posted, diamond shaped signs along the shore.
Click here for a shellfishing map (PDF)
.
137 East Avenue Norwalk, CT, 06851 Phone: 203-854-7776
A recreational permit shall be required for the taking of all shellfish in Norwalk waters. Recreational: Please call the Recreational Shellfishing Hotline at (203) 838-9807 to check the status of areas immediately prior to shellfishing. Areas may close due to rainfall or sewage events. The hotline has the most up-to-date information available.
Permits:
Shellfish permits can be purchased at Fisherman's World 2 Fort Point Street, Norwalk ((203-866-1075)
Fees:
Resident adult, $12; resident senior, $5; non-residents, $27.
Shellfishing map.
The Westport Conservation Department has a map available of the conditionally approved areas for shellfishing. These areas are opened and closed periodically primarily due to rainfall. On the day you wish to shellfish call (203) 838-9807 for a recording that will inform you if the beds are open.
Recreational shellfish permit applications may be downloaded
here
. Permits are valid from January 1 to December 31. The town prefers mail-in applications for recreational shellfish permits.
Permit Fees:
CT resident adult age 17 and older, $30; CT resident senior age 65 or older, $15; Out of state adult age 17 and older, $60; Out of state senior, $30; one-day permit, $15
Access to Shellfishing Beds:
The best access to the recreational shellfish beds is via boat. There is a state boat launch on Elaine Road off Compo Road South. There is a public parking area at Canal Road in Saugatuck Shores.
Shellfishing map.
Depot Road, off US Route 1 Groton, CT Phone: 860-444-7591
Walking in wooded peninsula and along rocky coast; seabird watching; shell fishing allowed
A permit is required for shell fishing off the rocky coast of this peninsula. Permits are issued by the Town of Groton, at Route 1 and Depot Road. Phone: 860-441-6600.
See
full description
of Bluff Point Coastal Reserve.
Groton Town Hall, 45 Fort Hill Road Groton, CT Phone: 860-441-6640
Permits:
Buy permits at Groton Town Hall, 45 Fort Hill Road, Monday-Friday, 8:30 a.m. to 4:15 p.m. Cash or check accepted. Buy permits at the town Police Department, 68 Groton Long Point Road, evenings and weekend. Cash and exact change only.
Fees:
Residents: Daily,$5; weekly, $10; monthly, $12; yearly, $25; non-residents: daily, $8; weekly, $15; monthly, $20; yearly, $35. Senior resident, $10; senior non-resident, $20
Shellfish Infoline:
860-441-6793. Shellfishing
map.
Waterford Town Hall, 15 Rope Ferry Road Waterford, CT, 06385 Phone: 860-444-5812
Purchase permits at Waterford Town Hall; local bait and tackle shops.
Fees: Yearly fee is $25 for residents; $35 for non-residents. Permit year is April 1 to December 31. Monthly fee is resident, $15; non-resident, $20. Weekly fee is residents, $10; non-resident, $15. Daily fee is resident, $5; non-resident, $10. Seniors pay $12 for resident and $25 for non-resident in all time periods.
Information: Shellfish Information Line is 860-739-6233. Shellfish Status Information is 860-444-5812
Old Town Hall / Sullivan Independence Hall, 611 Old Post Rd Fairfield, CT, 06824 Phone: 203-256-3000
The Fairfield Shellfish Program affects over 1,000 acres of municipal shellfish beds from Ash Creek to Sasco Creek including Long Island Sound. One inch of rain in a 24-hour period closes conditionally approved areas for 7 days.
Permits: Proof of Connecticut residency is required to obtain a recreational shellfishing permit. Permits can be obtained at the Conservation Department in Sullivan Independence Hall / Old Town Hall, 611 Old Post Road. Permit season is January 1 through December 31.
Fees: Fees are lower for residents of Fairfield with proof of residency. Fees are $15 for resident; $10 for senior residents; $25 for non-residents; $20 for non-resident taxpayers; $5 for residents for 14 days; $10 for non-residents for 14 days.
Greenwich Town Hall, 101 Field Point Road Greenwich, CT, 06830 Phone: 203-622-7700
Permits: – All permits are valid from October 1 to September 30 each year. Permits are available at two locations: the Town Clerk's office, Greenwich Town Hall, 101 Field Point Road, Monday through Friday, 8 a.m.-4 p.m.; and The Sportsman's Den of Greenwich, 33 River Road, Cos Cob.
Fees: Regular, $15; seniors age 65 and older, $10; junior age 5 through 13. $1.
Stonington Shellfishing Recreational permits for clams, oysters and other shellfish are available on an annual basis. Scallop harvesting is allowed on a seasonal basis, also by daily or seasonal permit. A permit is required for fishers age 12 and older.
Fees:
Stonington resident, $15; resident senior, free; non-resident. $30; non-resident senior, $10. A shellfish permit is good for the calendar year in which it is issued. Buy permits at Don's Dock, 228 North Water Street (860-535-0077) or at Shaffer's Boat Livery, 106 Mason's Island Road (860-536-8713)
Bed Closures:
To determine the current status (open or closed) of recreational shellfishing areas in Stonington, call 860-599-7575. Recreational shellfishing
map.