Rainy Day Activities in Connecticut (CT)
1080 Chapel Street New Haven, CT, 06510 Phone: 203-432-2800 Toll-Free: 877-274-8278
British art for the ages (all of them) at inspiring Yale center
How about drawin' in the rain? The magnificent Yale Center for British Art, whose collection of British art from the time of Queen Elizabeth onward is second only to that in the United Kingdom itself, hosts sketching session for artists of all skill levels, as well as concerts (sometimes grad students perform chamber music in the galleries), tours, self-guided family activities, children's programs and brief gallery talks. Imagine moving from John Constable's dramatic "Hadleigh Castle" to James McNeill Whistler's eerie "Noctgurne in Blue and Silver" to J.M.W. Turner's ghostly sea visions and Thomas Gainsborough's telling portraits. They are among the center's 2,000 paintings, but collections also feature sculptures, drawings, watercolors, prints and rare books and manuscripts. And the best part: It's all free!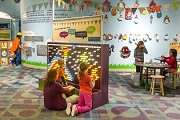 Mathews Park - 303 West Avenue Norwalk, CT, 06850 Phone: 203-899-0606
Enjoy an indoor fun learning day with the family
Come in out of the rain for an inspiring, exciting and wow! learning experience for children aged ten and under, toddlers and infants, and adults too. The museum provides lots of space to explore fun and fascinating educational exhibits. The Energy Lab features hands-on exhibits that demonstrate how the sun, the wind, the force of water, and the burning of fossil fuels produce energy. Watch a raceway powered by water, or balls being whisked away down a wind-powered maze. The Build It! exhibit lets children explore architectural design and construction with tools they can use to pretend to finish walls, paint with brushes and rollers, apply carpeting, and more. Tot Town is an imaginative world shrunk down to toddler level.
40 Sargent Drive New Haven, CT, 06511 Phone: 203-812-9981
High adventure on the world's largest indoor ropes course
Get out of the rain and into a friendly jungle of ropes and zip lines at Jordan's IT Adventure Indoor Ropes Course, the largest in the world. Bring the family and climb into two 60' high ropes courses to negotiate swinging beams, angled rope ladders, cargo nets, bridges, and planks. 1000 water nozzles dance to lights, programmed stereo sounds, and music. The longest Skyrails ever made zip for 200' with one that takes you over the water show and guarantees a dousing. Jump from 50' off the tallest level, step lightly along the 200' catwalk, and climb wobbly poles and twisted structures. Kids under 48"tall have their very own Little It. On hand is a friendly and fully trained staff.