Affordable Wedding Venues in Connecticut
21 Lake Avenue Extension Danbury, CT, 06811 Phone: 203-744-1776 Toll-Free: 800-742-1776
A wedding to fit your dreams and your budget
Save your money but you won't have to scrimp on elegance and luxuries at the iconic Ethan Allen Hotel. The setting is perfect in the rolling hills of western CT. and so is the warmth, hospitality, exemplary service and award-winning cuisine. The Personal Banquet Manager will provide one on one consultation to help you match every detail to your dreams and budget. Start your weekend with a welcome cocktail party or rehearsal dinner in the elegant outdoor courtyard. Exchange vows in the garden gazebo at sunset. Then step into one of three ballrooms designed and decorated in the Ethan Allen style – and customized just for you and your guests. The magic is here and within a price you can afford.
94 West Wharf Road Madison, CT, 06443 Phone: 203-245-1404
Affordable wedding packages at this upscale resort
Dreaming of a wedding on the beach that fits your budget? Reduced package pricing and guest minimums are available for weddings hosted between now and July 2017 at this elegant Connecticut shoreline boutique hotel. Your every wish will be met and exceeded by the Madison's wedding and culinary teams who are on hand to help you celebrate your own unique wedding celebration, delight your senses, and create life-long memories. The resort features, un-paralleled views, impeccable hospitality, and first-rate service and amenities. From the moment you arrive until you set off for your honeymoon destination, the hotel staff will take care of your vehicle, your belongings and your special needs. Hosting just one wedding a day, the focus is on you.
20 Coogan Boulevard Mystic, CT, 06355 Phone: 860-572-0731
Plan an affordable wedding filled with romance and history
Save your money for your honeymoon and the road ahead. Hold your affordable wedding in a setting where romance and history meet a renowned name brand hotel. The experienced and dedicated event and catering staff will handle the details, help you meet your dreams, and fit it all within your budget. Block book comfortable rooms and suites for your family and guests. Celebrate your ceremony, rehearsal dinner or wedding reception in one of several ballrooms sized and customized just for your wedding gathering. Book the Commodore parlor room for your own spacious bridal suite. Best of all you can offer your guests the magic of Mystic, with its many attractions – the perfect backdrop for a celebration never to be forgotten.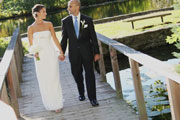 32 Weed Avenue Norwalk, CT, 06850 Phone: 203-852-7300 Toll-Free: 877-813-4153
Creating the perfect wedding is the goal of this resort's dedicated staff
A dedicated wedding planner and attentive staff aim to please every wedding couple at Dolce Norwalk, a rustic retreat set on 66 acres of spectacular woodland scenery. That means they will help you keep costs down. For a limited time, you can even save 10 percent on complete wedding packages at the photogenic resort. Ceremonies can be held pondside, under the trees, or indoors in rooms with tall windows and chandeliers. Enjoy cocktails with a few guests on the stone terrace or dance the night away in the picturesque Ferndale Ballroom with 200 of your nearest and dearest. Locally sourced, seasonal menus give you plenty of delicious options. And you can customize everything from silverware to your wedding cake.
104 Goose Green Road Barkhamsted, CT, 06063 Phone: 860-379-4050
Save on the wedding of your dreams
The perfect wedding can be picturesque, delicious and affordable when you celebrate here on 60 scenic acres in the foothills of the Berkshires. The Village hosts but one wedding per day so you'll have the full attention of the staff to plan and customize every detail and desire within your budget. Take your vows and enjoy your reception in rustic elegance and style near the grand fireplace overlooking the Litchfield hills or at the outdoor Pavilion within view of the pool and pond. Both locations make a beautiful backdrop to your nuptials. 12,000 square feet of banquet hall space and menus from casual barbecues to formal sit down dinners afford you every luxury and amenity for up to 300 guests.
One Haynes Street Hartford, CT, 06103 Phone: 860-246-1881
Customized weddings at this downtown hotel help keep costs down
The Goodwin, Hartford's historic boutique hotel, wants to help families answer the question: How can we have a fabulous wedding and reception without spending a fortune? The answer is customization, and this sophisticated hotel specializes in options from which of seven banquet spaces will you choose (from a huge ballroom to comfortable private suites) to what you want on your reception menu. The hotel's onsite restaurant, Harlan Brasserie, is expert at individualizing menus, from passed hors d'ouevres to elegant plated dinners. With a certain number of rooms booked for the wedding, the Goodwin also offers the wedding couple a complimentary suite on their wedding night. Nearby (and free!) sites for beautiful wedding photos include Bushnell Park, City Hall and the Capitol Building.