Connecticut state parks offer lots of paddling, canoeing, kayaking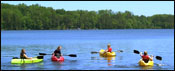 Connecticut's abundant number of well-maintained state
parks
and forests offer plenty of places to enjoy paddling, whether by canoe or kayak.
Part of a wonderful
vacation
for parents and kids.
Lighthouse Road New Haven, CT Phone: 203-946-8019
Lighthouse tours, water sports, marine biology programs, paddling tours
This waterfront park boasts a historic lighthouse, paddling,and a number of adventure programs, including canoeing, kayaking. Learn more from the Outdoor Adventure Coordinator at 203-944-6768.


Lake McDonough Park
Route 219 Barkhamsted, CT, 06063 Phone: 860-379-3036
Water sports and a boat launch; Braille-marked walking trail
Boating and paddling are done on this small, easy-to-reach lake at a day-use park. Boating and shore fishing are done late April- Labor Day. Boats are available to rent.
See
full description
of Lake McDonough Park.
Route 171 Union, CT Phone:
Large forested park with lots of hiking trails; water sports at one lake and 3 ponds
This combined forested property just south of the Connecticut-Massachusetts border includes Mashapaug Lake and Bigelow, Breakneck, and Griggs ponds, where boating and pond fishing are done. There are boat launches at Bigelow Pond and Mashapaug Lake.
See
full description
of Bigelow Hollow State Park and Nipmuck State Forest.
Between Center Hill Road (Route 181) and East River Road [see map] Barkhamsted, CT Phone: 860-379-0922
Large forests offer all outdoor recreation: camping, water sports, extensive hiking trails
Canoeing and Kayaking are done on the west band of the Farmington River, which runs through these state forests.
See
full description
of American Legion and Peoples State forests
147 Wolf Den Drive Pomfret Center, CT Phone: 860-928-6121
Good park for camping, swimming, boating, hiking; cool rock formations to explore
This forested park is popular for all water sports, including boating and paddling of canoes and kayaks.weekends.
See
full description
of Mashamoquet State Park.
Depot Road, off US Route 1 Groton, CT Phone: 860-444-7591
Walking in wooded peninsula and along rocky coast; seabird watching; shell fishing allowed
Canoeing and kayaking are popular pastimes off the rocky coast of this reserve. There is a boat launch with parking for car-top vessels.
Boat launch.
149 Farms Village Road (Route 309) Simsbury, CT Phone: 860-242-1158
Wheelchair-accessible park has trout fishing, hiking, sports fields, swimming
This large park has opportunities for plenty for water sports, including canoeing, kayaking, and paddling. See
full description
of Stratton Brook State Park.
18 Ranger Road Haddam, CT Phone: 860-566-2304
Large state forest; good for fishing, hiking & walking, horseback riding, snowmobiling
Launch your boat from the carry-in/car-top boat launch ramp at Messerschmidt Pond. See
Cockaponset State Forest
for full description of this park.
178 Shortwoods Road New Fairfield, CT, 06810 Phone: 203-312-5023
Pond is centerpiece of wooded park with beach, swimming, boating, hiking trails, ice skating, cross country skiing
Boating is done at this pretty pond, along with swimming, fishing, and other water sports. Canoes and kayaks are available to
rent
.
See
full description
of Squanz State Park
Route 202 Litchfield, CT Phone: 860-567-8870
Water sports in the lake; hiking to tower at mountain top
Non-motorized boating, along with swimmming and fishing, are done at this park, named for the mountain within its boundaries.
See
full description
of Mount Tom State Park.