Fairs & festivals of music, food, comedy, arts, ethnic heritage, and more
Fairs and festivals include year-round, multiple-day celebrations of music, food, sports, ethnic holidays, crafts and more, both indoors and outdoors. Often with great seasonal food and mementos to take home.
For more fun activities, see Connecticut Events page
Stamford Museum & Nature Center, 39 Scofieldtown Road. Stamford, CT Phone: 203-322-1646
October 17 & 18, 2015
Celebrate the fall season, bring family and friends, and join us for our annual Harvest Festival Weekend. Enjoy apple cider demonstrations, a scarecrow contest, pumpkin carving, and fun activities for the whole family! Wear a costume and participate in the daily costume parade. Other activities include an apple slingshot, farm animal demonstrations, live music with Jay and Ray, face-painting, storytelling with Ms. Karen, and children's crafts. Hayride tickets will be available for purchase and food trucks will be at work. Time: 11 a.m.-3 p.m. Admission: $10; children age 3 and younger, free
On and around Town Green Southington, CT Phone:
October 2-4 & October 9-11, 2015
The festival offers a wide variety of live music & entertainment, food, contests, crafts, children's activities, carnival rides and more. The annual parade is Sunday, October 4, at 2 p.m. Fireworks will be shot on Saturday, October 3, at 9 p.m. Arts & Crafts Show booths will open at 10 a.m. on Sunday, October 11. Time: Fridays, 5-9 p.m.; Saturdays, 9 a.m.-9p p.m.; Sundays, noon-5 p.m. Shuttle buses to the fair leave from Southington High School, 720 Pleasant Street.
Bush-Holley Historic Site, 39 Strickland Road, Cos Cob, CT Phone: 203-869-6899
October 11, 2015
This year's Fall Festival will focus on the town's early history. Re-enactors from the Fifth Connecticut Regiment will demonstrate camp life at the time of the American Revolution. They will march, fire muskets and display uniforms, flags, crafts and weapons from the period. Guests may take a hayride along historic Strickland Road; enjoy a special, family-friendly tour of Bush-Holley House; and try doing Colonial crafts. The Bounty Food Truck will be on site. At the scarecrow-making competition, guests build their own customized scarecrows for $15. Time: 12:30 to 3:30 p.m. Admission: $10 for adults; $5 for children; $25 for family admission; $15 for scarecrow making. Reserve ahead or pay at the door.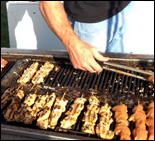 Bethlehem Fairgrounds, 384 Main Street North (Route 61) Bethlehem, CT Phone: 203-266-7810
October 10-11, 2015
Nobody will make you taste it, but there is garlic ice cream – among many other pleasures – at the Garlic & Harvest Festival, now in its 11th year. Come to see garlic cooking demonstrations; hear a live band performance; learn how to grow garlic at expert lectures; buy garlic dips, spreads, cheeses, and oils; taste free samples. If samples aren't filling you up, skedaddle over to the food court for garlic sausage with peppers and onions, garlic steak sandwiches, garlic roast pork sandwiches, deep-fried garlic, and the aforementioned garlic ice cream. Kids will enjoy rides and games! Time: 10 a.m. to 5 p.m. Cost: Adults, $7; seniors, $6; children under age 12, $1.
Stamford Museum & Nature Center, 39 Scofieldtown Road Stamford, CT Phone: 203-977-6521
October 16, 2015
Bring friends for a casual night out at this adults-only evening, Enjoy seasonal brews, German food,and s'mores. Live music from Green Eyed Lady. Save money and purchase tickets online in advance. Advance tickets must be purchased by midnight on October 15. All proceeds support Stamford Museum and Nature Center.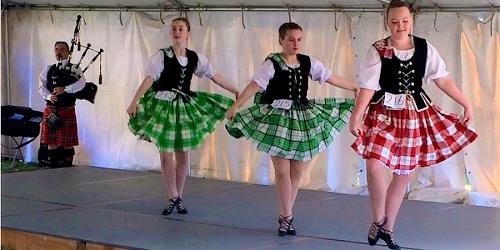 96 Waldo Road Scotland, CT Phone:
October 11, 2015
Come enjoy all the majesty of Scottish culture on a beautiful fall day. Events include a highland dance competition, piping and drumming competition, harp circle, highland athletic competition, Celtic music, harp demonstration, circle of harps, highland cattle, sheep dog demonstration, Clan Village, Scottish vendors with food and wares. Live music by Charlie Zahm, North Sea Gas, and Teresa Whitaker with Frank Schwartz, performing stories and songs for kids. Email: highlandfestival@hotmail.com. Admission: Adults, $15; seniors age 65 and older and students, $10; children age 6 to 12, $5 Time: 8 a.m.-4:30 p.m.