Fairs & festivals of music, food, comedy, arts, ethnic heritage, and more
Fairs and festivals include year-round, multiple-day celebrations of music, food, sports, ethnic holidays, crafts and more, both indoors and outdoors. Often with great seasonal food and mementos to take home.
For more fun activities, see Connecticut Events page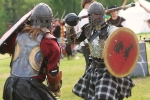 Dodd Stadium - 14 Stott Avenue Norwich, CT, 06360 Phone: 860-478-5954
Now at its new location in Norwich, CT! New England's Old England<br>Saturdays, Sundays and Columbus Day, Sept. 27 to Oct. 26, 2014
The Renaissance Faire returns to southeastern Connecticut for five consecutive weekends and Columbus Day. Don't miss one of the state's most popular tourist destinations complete with knights in shining armor, fair maids, jousting, comedy, games, archery, rat circus, fire eaters, rope walkers, birds of prey demonstrations, interactive characters from history, contests, and continuous themed entertainment on nine stages – and all shows are included with your admission!

Shop in New England's largest medieval marketplace featuring handcrafted and unique items you can't find anywhere else. Feast like a king on turkey legs, bread bowl stews, cheesecake, and many other delectable food options and then wash it all down with an ice-cold craft beer from Thimble Island Brewery.

Make The Connecticut Renaissance Faire your family tradition this fall. It'll be the event you look forward to all year long.

Hours: 10:30am-6pm. Parking: Free of charge. Tickets: General (Ages 16+) $17, Youth (7-15) $10, Children 6 & under FREE. Call or visit our website for directions, discounts, special events, shopping & more!
14 Stott Avenue Norwich, CT Phone:
September 27- October 26, 2014
Escape thy cares and experience a romantic age lost to time with jousting knights, period music & dance, interactive characters, magicians, comedy, and continuous live shows throughout the day included with admission. All the Faire is a stage surrounded by the bright colors of fall and pageantry of the Renaissance. Time: 10:30 a.m.-6 p.m. Cost: Adults, $17; youth, $10; parking, free.