Connecticut has classic and beautiful settings for a memorable wedding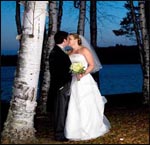 Waterfront resorts, rustic inns, and sophisticated hotels in historic Connecticut are ready and able to help you plan the perfect wedding or reunion or other importance celebration gathering. Wedding planning begins with the bridal couple's preferences. It could be a formal ceremony and reception hall on a sloping lawn or fancy ballroom at a luxury resort on Long Island Sound. Or a small, country wedding at a rustic inn in Litchfield. Or anything that floats your boat (including vows on a yacht followed by a clambake).
Connecticut celebration and wedding venues are staffed by experts who can help you plan the event and provide for every detail: receptions, dinners, lodging for guests, buffet or formal dining, ballrooms for large or small groups, flowers, music, photography -- whatever you may need. Before or after the celebration or wedding day, guests can enjoy golf, swimming pools,
spa services
, and other pleasures of Connecticut's best hosts.
One Haynes Street Hartford, CT, 06103 Phone: 860-246-1881
Boutique hotel prime venue for chic ceremonies, receptions
Combining a rich 19th-century heritage with a sense of modern urban chic, the Goodwin, Hartford's boutique hotel, is a glorious backdrop for weddings of any size. Whether you have a guest list of 300 and opt for the Capital Ballroom with its spectacular chandeliers or want a quiet ceremony in a private suite with decorative fireplaces from the original building, the hotel has much to offer. Customizable menus (from artistic hors d'ouevres to sophisticated plated dinners) from the world-class Harlan Brasserie, a staff that attends to your day's every detail, romantic pre-ceremony, ceremony and reception venues and a complimentary wedding suite with set-aside blocks of rooms make the Goodwin the perfect place to exchange your vows.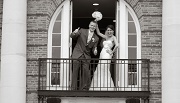 7 Main Street Middletown, CT, 06457 Phone: 860-854-6300 Toll-Free: 800-637-9851
Wedding packages make your event at the Inn easy and elegant
A wedding as classy and classic as Katherine Hepburn (who lived nearby) is yours at the Inn at Middletown, a distinct Federalist structure on the Main Street of Middletown in the beautiful Connecticut river valley. Built in 1810 as a home, this restored boutique hotel hosts intimate wedding ceremonies, large banquets, and private receptions. See yourself and your friends and families surrounded by Colonial-era furnishings, mahogany paneled walls and a dramatic, two-story curved staircase. Two rooms accommodate up to 120 guests and feature large picture windows overlooking historic Main Street; smaller weddings thrive in the intimate Patriot Room. Comprehensive wedding packages at different price points and professional planners help you every step along the way.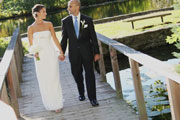 32 Weed Avenue Norwalk, CT, 06850 Phone: 203-852-7300 Toll-Free: 877-813-4153
Retreat's elegance, rustic charm unite to create the perfect wedding experience
Just an hour outside of New York is a rustic retreat where you can get married beneath the "wedding tree," dine on filet mignon and dance under the chandeliers of a grand ballroom. Couples rave about the service and attention given to their special day at Dolce Norwalk, set on 66 acres of spectacular scenery in the rolling hills and spacious meadows of Connecticut. With ceremony, reception and small-gathering venues ranging from stone terraces and inviting courtyards to wide, pondside lawns; menu options that include standing stations and sit-down dinners; and the ability to customize everything from stemware and seating to champagne and cake, Dolce Norwalk is the perfect place to make every wedding fantasy come true.
74 Interlaken Road (Route 112) Lakeville, CT, 06039 Phone: 860-435-9878 Toll-Free: 800-222-2909
Exclusive Weekend Weddings in CT's Litchfield Hills
Nestled in the beautiful Litchfield Hills of northwest Connecticut, the Interlaken Inn provides a unique lakeside setting and world-class cuisine beneath the marquis tent. Outdoor garden weddings are a specialty, together with a weekend full of dining, events and family memories. Enjoy a rehearsal dinner/barbecue and night time bonfire at the lake. Golf, hiking and other outdoor activities will engage your guests on Saturday morning. And – the most perfect lakeside ceremony and garden reception await. The Inn is perched on 30 acres of English cottage-style gardens, shimmering lakes and manicured lawns, a stunning backdrop for beautiful and memorable weddings. A Weekend Wedding isn't complete without the extra touches! Make your event memorable with unique events in unique places at the Interlaken.
94 West Wharf Road Madison, CT, 06443 Phone: 203-245-1404
Elegant shoreline venue for your wedding
Experience a world of blissful tranquility and comfortable elegance on your wedding day. This intimate, upscale, beachside resort offers the most festive and unique wedding celebrations on the Connecticut Shoreline. Hosting just one wedding a day, the focus, is on you and your guests and your special day's celebration. Start with the wedding team's Planning Packet to map out every detail from the music you'll dance to, the food to be served, to the beautiful dress you'll wear. 32 spacious guestrooms offer you and your guests every comfort and amenity including private balconies that overlook the water. The award-winning culinary team will design with you a menu that rises both to the elegance of the occasion and the discerning palate.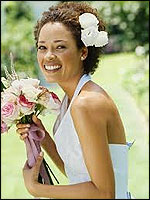 36 Main Street Essex, CT, 06426 Phone: 860-767-1776
Charm and ambiance that makes every wedding unique
At the Griswold Inn, set in picturesque Essex, Connecticut, charm, character, and excellent service make every wedding a memorable event. Founded in 1776, our inn is one of the oldest in the country, and every effort has been made to preserve the historic ambiance. We offer dining venues for weddings of every size. Our largest accommodates 150 diners. Each room showcases part of our acclaimed art collection. Our talented chefs have prepared wedding menus that you can customize to make uniquely yours. Select wines from our award-winning wine list. After the bash, spend the night with us. We have 33 charming rooms, no two exactly alike. Most are furnished with antiques, period reproductions and Leonard's Beds - yes, the same Leonard's that has supplied The White House.
21 Lake Avenue Extension Danbury, CT, 06811 Phone: 203-744-1776 Toll-Free: 800-742-1776
WeddingWire.com 2017 Couples Choice award winner
Celebrate your dream wedding in style and elegance. Set in the rolling hills of Western CT. The Ethan Allen is the perfect venue for an intimate gathering or gala affair. Hold your special day where ambiance, exemplary service and award-winning cuisine are house specialties. The Personal Banquet Manager will provide one on one consultation to help you match every detail to your fondest wishes. With 15,000 square feet of space designed and decorated in iconic Ethan Allen style you can choose the Essex, Regency, or Grand Ballrooms, each with its own dance floor. Set the tone for the weekend with a welcome cocktail party or rehearsal dinner in the elegant outdoor courtyard. Exchange vows in the garden gazebo at sunset.
One Railroad Avenue Essex, CT, 06426 Phone: 860-767-0103 Toll-Free: 800-377-3987
Begin Your Life Together In a Memorable Riverside Place
A Connecticut wedding near the banks of the lush, undeveloped Connecticut River, a historic watery boulevard that flows from Long Island Sound to the Canadian border, would be beautiful all by itself. If you add the options of a ceremony or reception on the Mississippi-style riverboat Becky Thatcher or a 1920s-era steam train, you are creating a memorable day and extra-romantic celebration for everyone involved. Essex Steam Train & Riverboat can off those venues, along with an art gallery, event hall, or shaded lawn at the historic Essex station. Fans of historic railroads or river travel would love such a theme, but loving the gorgeous Connecticut countryside is enough all by itself. In-house catering with exceptional menu items is prepared and presented by an attentive staff.
104 Goose Green Road Barkhamsted, CT, 06063 Phone: 860-379-4050
Picturesque Wedding Facility in Barkhamsted
Celebrate your special day at this magnificent wedding facility. Set on more than 60 picturesque acres in the foothills of the Berkshires, you'll enjoy more than 12,000 square feet of banquet hall space and menus from casual barbecues to formal sit down dinners. Savor rustic elegance and style near the grand fireplace looking out at the beautiful Litchfield hills or at the outdoor gazebo with a beautiful backdrop for your nuptials. The Main Banquet Hall can seat from 100 to 300 guests. The outdoor Pavilion offers a more casual, open-air ambience with seating for up to 250. As the facility hosts just one wedding per day, you'll have the undivided attention of the staff to plan and customize every detail.
20 Coogan Boulevard Mystic, CT, 06355 Phone: 860-572-0731
A romantic and historic setting for the wedding of your dreams
Plan your wedding in this charming, historic and scenic town at Hilton's versatile celebration venue. The elegantly decorated Grand Ballroom offers 3,256 sq. ft. of customizable space that can be divided into three separate and stylish rooms with every amenity to create a rehearsal dinner, ceremony and reception that meets your desires. The Commodore parlor room is your spacious bridal suite. With impeccable attention to details, event specialists will guide you through a stress-free planning process to help you translate your vision from décor to menu options. Block booking is available to ensure your guests are comfortable in rooms and suites. The in-house restaurant and lounge and the magic of Mystic Seaport, Olde Mistik Village and more await your arrival.