Connecticut scenic drives meander through quaint, historic towns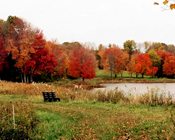 Scenic drives in Connecticut will take you through a postcard world of rolling hills, parks, town greens, steepled churches, and family farms. In the Litchfield region in particular, near the Housatonic River, enjoy driving or walking through historic
covered bridges
. Along the Long Island Sound shoreline, you will trip across beautiful seascape and nice places for a seafood lunch or dinner. Below, Find CT's beautiful scenic drives, foliage drives, scenic highways, and National Scenic Byways.
See more beautiful images of New England by Massachusetts photographer
Jeff Folger
.
Length: 75 Miles
This tour begins in Goshen (Rtes. 63 and 4), noted for its rolling hills and farming heritage. In Goshen center, notice the 1833 Congregational Church and the Victorian Old Town Hall.
To visit Miranda Vineyard, take Route 4 west from the center of town. To visit Sunset Meadow Vineyards, overlooking the Western Connecticut Highlands, take Route 63 south.
Use Route 4 west to pass Tyler Lake and head into the storybook village of West Cornwall. The town has a covered bridge and guided fly fishing trips nearby on the Housatonic River.
Continue on Route 7 north on a scenic road through Housatonic State Forest. At routes 7 and 126, take Route 7 north toward Falls Village. Main Street buildings include Greek Revival, Italianate, Second Empire and Queen Anne architecture.
At routes 44 and 7, take Route 44 west to Canaan and then on to Salisbury. Excellent fishing and a boat launch are at Twin Lakes. From Lakeville, take Route 41 south, one of the prettiest roads in the state, to Sharon.
Get onto Route 4 east and pass Mohawk Mountain ski area and Mohawk State Forest. Continue on Route 4 east to Goshen.
Map
This National Scenic Byway is only 37 miles, and it provides an alternate, and parallel Route to I-95 while traveling northeastward from the New York State border into the Oceanside Fairfield region of Connecticut. The Merritt Parkway's design convines the skill of civil engineer and artist. The bridges along the route are excellent examples of Art Deco, or Art Moderne, styles of the 1920s and 1930s. The two-lane, divided road does not move as fast as an interstate highway, but views are lovely in all times of the year. Trucks are prohibited.

Route 169 Norwichtown to East Woodstock, CT Phone:
Length: 36 miles
Connecticut State Route 169 is a peaceful road through quiet villages, scenic woodlands, and quaint farmsteads amid rivers and rolling hills of the Quinebaug and Shetucket Rivers Valley National Heritage Corridor. Travelers pass photo-worthy small towns and Colonial structures and farms. Beautiful foliage greets you around every bend in September and October. Stop for a visit at Mashamoquet Brook State Park in the town of Pomfret.
Byway map