Luxury Weddings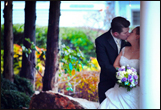 Connecticut's inns and
resorts
are more than ready to create a glorious luxury wedding for you and your guests, in indoor or outdoor settings that magnify the beauty of nature. Every detail of royal wedding treatment is in hand: from flowers to Champagne flutes, ballrooms to small, detailed services for special guests. Plan a luxury wedding now, anywhere from Connecticut's waterfront to the charming green spaces of Litchfield.
21 Lake Avenue Extension Danbury, CT, 06811 Phone: 203-744-1776 Toll-Free: 800-742-1776
Celebrate your wedding in luxury and iconic style
This luxurious setting in the hills of western CT and midway between New York City and Hartford awaits your one of a kind wedding. Designed and decorated in the iconic Ethan Allen style, this classic hotel reflects warmth, and elegance plus award-winning cuisine, exemplary service, and all the extra touches. Whether an intimate gathering or grand affair, yours will be a a tailor-made celebration right down to the very last detail. At each stage of the planning process, your personal Banquet Manager will be available for one-on-one consultation to ensure that nothing is left to chance. You'll have 15,000 square feet of space to choose from in three magnificent ballrooms. each with its own dance floor and so much more.