Luxury Weddings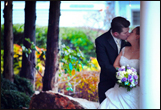 Connecticut's inns and
resorts
are more than ready to create a glorious luxury wedding for you and your guests, in indoor or outdoor settings that magnify the beauty of nature. Every detail of royal wedding treatment is in hand: from flowers to Champagne flutes, ballrooms to small, detailed services for special guests. Plan a luxury wedding now, anywhere from Connecticut's waterfront to the charming green spaces of Litchfield.
Two Bridge Street Old Saybrook, CT, 06475 Phone: 860-395-2000 Toll-Free: 800-243-0212
Celebrate your special day in waterfront luxury
Every touch is luxurious at this vibrant coastal Connecticut wedding venue considered by many to be the best in New England. A windswept 19th century-style retreat offers spectacular waterfront views of Long Island Sound. An impeccable setting for sweeping galas and intimate affairs, the waterfront location, nestled at the mouth of the Connecticut River, is just minutes from the historic village of Old Saybrook. Your guests can enjoy a rejuvenating day at the spa or a sunny afternoon on the links. Expert planners can arrange the loveliest and liveliest of events for your special visit from candlelit dinners in the Grand Ballroom to an authentic New England clambake on a private yacht. Then you and your beloved can set sail on a sea of incredible memories.
21 Lake Avenue Extension Danbury, CT, 06811 Phone: 203-744-1776 Toll-Free: 800-742-1776
WeddingWire.com 2015 & 2016 Bride's Choice award winner
Celebrate the beginning of your life together at The Ethan Allen Hotel in Danbury. We're conveniently located midway between Hartford and New York City, in the rolling hills of western Connecticut. We're the ideal spot for your wedding ceremony and reception, with facilities for a small group of family and friends or a rollicking bash with up to 500 guests. Your personal banquet manager will be available for one-on-one consultation throughout the entire planning process, so that nothing is left to chance. And you'll find our hotel is designed and decorated in the iconic Ethan Allen style, reflecting warmth, luxury, and elegance. After a cocktail party in our outdoor courtyard, exchange "I dos" in our garden gazebo, and then celebrate in our beautifully renovated Grand Ballroom.