Connecticut farms, orchards, vineyards open for tours, wine, shopping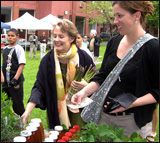 People often think of Connecticut as an urban place, but it also has many small farms, vineyards,
farmers markets
, and
pick your own
orchards that welcome the public to visit, meet farm animals, taste wine, pick fruit, and shop. The Litchfield region of western Connecticut has dairy farms making specialty cheeses and similar products.
Other Connecticut farms produce wool from sheep and alpacas, buffalo meat, and more. The Connecticut Wine Trail is a string of vineyards and wineries that welcome guests and host tastings and special events.
1355 Boston Post Road Guilford, CT, 06437 Phone: 203-453-2338
Since 1871, six generations of Bishops have been serving the shoreline with fresh farm products. Our farm market has grown from a roadside stand of the 1910's to a simple, yet bustling market, handling fresh fruits and vegetables, and related farm products. Our farm market in Guilford is open year-round with one or more of our own products available each month of the year. Our "big red apple" is a landmark known to many from near and far.
The Bishop family represents the fine tradition of growing and selling the finest quality native fruits and vegetables.We have everything for your cost conscious meals and family gatherings, from wines and soup, salads, vegetables and fruits to prepared foods, including large trays of our most popular dishes! Don't forget cider, meats and of course pies!
Our Farm Market, Winery and Bakery is open year-round and conveniently located in Guilford CT near exit 57 of I-95 (map). Treat friends and family to our variety of Farm Gifts and our selection of Fruit Baskets. Come see our Llamas, Alpacas and Goats too! Watch our G Scale Train with cars from the NYNH Railroad circle above your head.
Pick Your Own season starts in mid-June and continues through late October. Bring the whole family and enjoy the day at any of our convenient locations.
Eat, drink and be grateful for it all
Grape growing and wine making started in Connecticut in the 1800s. More recently, and now in one of the most scenic and fastest growing wine regions in the country, producers run enterprises to increase farm revenues and provide an additional incentive for visitors to stop by. More travelers today are looking for an authentic down on the farm experience that Connecticut's Wine Trail offers in abundance – along with an almost unlimited range of fine wines. You can tour the area's wineries and explore historic barns, buildings, homes, churches and shops. Born in microclimates, taste and savor the distinct differences in each varietal. Along the way, you'll meet dedicated farmers, passionate winemakers, and the beautiful places kept that way by people who care.