Connecticut's seafood restaurants serve the best that the ocean offers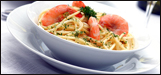 Seafood is New England's specialty, and Connecticut can bring it on as well as any other place along the coast. Come to Connecticut -- on the
waterfront
or inland -- to enjoy fresh seafood, brilliantly prepared. A great option for a romantic dinner, a family meal well-stocked with kids, and for people who want to eat healthy cooking, locally harvested.
159 Atlantic Avenue Misquamicut, RI, 02891 Phone: 401-596-2610
Tasty food from the sea prepared the way you like it
Sit on a fabulous stretch of Misquamicut Beach and savor delicious seafood from its shallows and depths. Dine on the deck or in the sand in the non-smoking dining area at Paddy's Beach Club gives you the ocean as the appetizer and great seafood and spirits to complete the menu. There's calamari, pork & kimchi pot stickers, clam rolls, shrimp po' boys, New England lobster rolls, and Spicy Thai mussels to start you off. For more sustenance, dive into the fish and chips, or the clam strip platter. The raw bar has your favorites on the half shell from local oysters and clams to the roasted jumbo shrimp cocktail or try it all with the Raw Bar Sampler.