Romantic restaurants in Connecticut offer intimate dining experience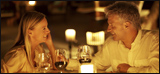 Fine restaurants of Connecticut stand ready to provide an extraordinary variety of atmosphere and cuisine to enhance any couple's romantic getaway. Whether you are tucked into a cozy seafood restaurant in one of the state's shore towns or in a sparkling bistro in New Haven or Hartford or enjoying locally created foods at a farm-to-table restaurant in Litchfield, you are bound to be satisfied. Also, remember that Connecticut
vineyards
serve special occasion and holiday dinner and lots of tasting and pairing events.
One Railroad Avenue Essex, CT, 06426 Phone: 860-767-0103 Toll-Free: 800-377-3987
Make any occasion special
All aboard the elegant Essex Clipper Dinner Train for a four-course meal served in beautifully restored 1920's Pullman diners, pulled by a vintage diesel locomotive. Relax and reconnect while our 2½-hour, scenic journey soothes away the stress of everyday life. The rhythm of the rails and our attentive staff transport you back to the day when rail travel was king and "dinner in the diner" was a delicious special occasion. From May through October.