Fine dining in Connecticut offers exceptional restaurants, expert chefs

Connecticut's fine dining establishments include top-quality food from chefs who learned their art at the best restaurants.
Another wonderful type of venue to enjoy a fine meal may be at
vineyards
and wineries that serve occasional themed dinners, and dinner for special times, like Valentine's Day.
The addition of wine pairing and expertise can be a delight for wine lovers.
One Railroad Avenue Essex, CT, 06426 Phone: 860-767-0103 Toll-Free: 800-377-3987
Make any occasion special
All aboard the elegant Essex Clipper Dinner Train for a four-course meal served in beautifully restored 1920's Pullman diners, pulled by a vintage diesel locomotive. Relax and reconnect while our 2½-hour, scenic journey soothes away the stress of everyday life. The rhythm of the rails and our attentive staff transport you back to the day when rail travel was king and "dinner in the diner" was a delicious special occasion. From May through October.
74 Interlaken Road (Route 112) Lakeville, CT, 06039 Phone: 860-435-9878 Toll-Free: 800-222-2909
From farm to table...
Dine in casual elegance, with service in the tradition of great New England Inns. Enjoy New American cuisine with a unique menu of original dishes, prepared with fresh local ingredients. The Interlaken's team of clasically trained chefs (Culinary Institute of America) provide excellence in preparation and presentation. Make dining adventurous. After dinner stroll through the numerous English-Cottage style gardens, or sit by the lakeside. Top-shelf list of single-malt scotches, martini menu. An eclectic and comprehensive wine list. Zagat rated.
85 Lyme Street Old Lyme, CT, 06371 Phone: 860-434-2600
The taste of New England with a local flavor
This classic New England Inn has much on its menu of services and amenities not the least of which can be found in its restaurant. Since its opening in April 2012, it has quickly become a celebrated meeting place for visitors and locals and is hailed by critics and customers alike. The creative chefs offer traditional comfort food selections and more modern options to challenge the way you think about food. The lunch and dinner menu, as well as the wine and cocktail list, change seasonally and employ locally grown and deliciously fresh produce, meat, and seafood, and have on hand farm-roasted coffee and homemade ice cream. After dinner, step into the intimate Side Door Jazz Club and continue the feast.
607 West Thames Street Norwich, CT, 06360 Phone: 860-425-3500 Toll-Free: 800-275-4772
Comfort Foods with an Upscale Twist
Chef Lee Masten describes his new menu as 'comfort foods with an upscale twist'. He suggests trying the Seared Ahi Tuna or Berkshire Pork Chop with Whiskey Smoked Sugar, Roasted with Butternut Squash Risotto. On the lunch menu, the Baja Fish Tacos and the Seared Scallop Salad are some of the local favorites. Dine at Kensington's at Norwich Inn to experience unique flavors and textures, with the freshest local ingredients. In addition to exceptional food, the wine list sets the mark with some of the world's finest vintages as well as wines from many local vineyards.

Open for breakfast, lunch and dinner, Kensington's serves guests of the inn and is also open to the public. With a terrace deck available during the warmer months, the atmosphere is intimate, serene and beautiful. For reservations, call 860-425-3630.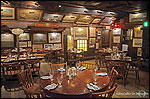 36 Main Street Essex, CT, 06426 Phone: 860-767-1776
Fine Dining
The historic Griswold Inn, set in picturesque Essex, Connecticut, is the gourmet's destination in southern New England. We offer several dining venues, all rich in character and ambiance. In our dining room our culinary team prepares classic American cuisine to perfection in simple, but imaginative ways. The menu showcases fresh seafood, aged beef, and the highest quality chops and poultry. After any meal, the house-made desserts are a "must." In the Wine Bar we showcase our award-winning wine list -- with over 50 wines by the glass -- and offer an innovative tapas menu, featuring inspired macro plates and artisanal cheeses. Our Tap Room is the place to enjoy cocktails and casual fare such as burgers, sandwiches, and our signature clam chowder. Bon appetit!
21 Lake Avenue Extension Danbury, CT, 06811 Phone: 203-744-1776 Toll-Free: 800-742-1776
Great Food, Great Drinks. Great Service.
A favorite of area Residents since 1974, Fairfield's Restaurant offers fine dining in an elegant yet relaxed & casual atmosphere. Be surrounded by Country French interiors with linen tablecloths, Queen Anne chairs and elegant stemware - or retreat to the sun-drenched solarium - perfect for enjoying our' award-winning Sunday Brunch, Breakfast or Dinner while admiring the afternoon sun or sunset.
Original but classic cuisines utilizing fresh local ingredients are prepared by our culinary team. Fairfield's also boasts a large selection of fine wine from regions of the world offered by the bottle or by the glass. Savor the culinary creations every night with popular, value-priced dining specials, themed menus, and special events to include Valentine's Day, Easter, Mother's Day and the Holidays.