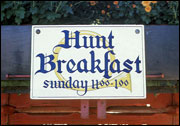 36 Main Street Essex, CT, 06426 Phone: 860-767-1776
Fabulous Hunt Breakfast one more reason this Connecticut inn is famous
It's "the most famous brunch in Connecticut," according to The New York Times. But at The Griswold Inn, which opened its doors during the Revolutionary War, Sunday brunch is more than that: It's tradition. The famous Hunt Breakfast at "The Gris" began when the British commandeered the inn during the War of 1812. Today, it is still a royal feast, featuring a varied menu that might include baked cornbread and scones, stations for omelets and Belgian waffles, salads, pasta, herb-roasted chicken, baked cod – and a pecan and caramel French toast souffle and chocolate brownie pudding. It's beautiful to look at, set amid the warm splendor of the historic inn, and even more of a treat to sit down, pick up a fork – and enjoy.
Two Bridge Street Old Saybrook, CT, 06475 Phone: 860-395-2000 Toll-Free: 800-243-0212
Savor spectacular brunch by the water as boats sail by
With Long Island Sound and the Connecticut River as a backdrop, Fresh Salt restaurant at Saybrook Point serves up a brunch that will set your taste buds sailing. Voted the Best Sunday Brunch by Connecticut Magazine, the locally inspired feast features a carving station, made-to-order omelets, a pasta station, a smoked seafood station – even a made-to-order waffle station with more add-ins than you can imagine. Bountiful bowls of fruit, salads and pastries as well as a dessert table with everything from cannolis to chocolate mousse cups round out the offerings. And you can enjoy it all in a comfortable, relaxed atmosphere with tables by the fire or, in season, on the terrace, watching the boats go by.