Unique Wedding Venues in Hartford & Central Connecticut
One Haynes Street Hartford, CT, 06103 Phone: 860-246-1881
Many dramatic venues for your ceremony at historic downtown hotel
Everything about the iconic Goodwin hotel says unique, starting with its ornate Victorian terra cotta facade. Inside, past the black marble reception desk, stunning wedding ceremony, photo and reception venues include the Goodwin Atrium, with 50-foot-tall ceilings, skylights, balconies and a grand staircase for a spectacular entrance; and the Capital Ballroom, with its graceful chandeliers. The Ballroom features a stunning mirror collection with eye-catching ring pendant chandeliers and large windows overlooking the city. Smaller private suite venues include decorative fireplaces refurbished from the original 19th-century hotel and dramatic black and white interiors. The whole vibe at the Goodwin is a boutique feel, combining the hotel's classic past with a chic, sophisticated sense of the future.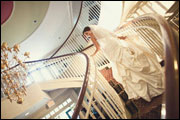 7 Main Street Middletown, CT, 06457 Phone: 860-854-6300 Toll-Free: 800-637-9851
Special wedding venues inside and nearby this historic inn
With 100 elegantly appointed guest rooms and suites, and gorgeous banquet rooms overlooking romantic Main Street, the historic Inn at Middletown is happy to be part of so many wedding events, from intimate private ceremonies to showers, receptions and morning-after breakfasts. The inn's fabulous two-story curved staircase and rich, mahogany-paneled event rooms make it a perfect spot for your perfect day. But it also welcomes guests attending ceremonies at other special area venues, including The Barns at Wesleyan Hills, The Riverhouse at Goodspeed Station and The Lace Factory at the edge of the Connecticut River. Reserve a block of rooms and let your guests relax in the inn's indoor pool and dine by a crackling fire in the Tavern at the Armory.