Wedding Venues & Receptions in Hartford & Central Connecticut (CT)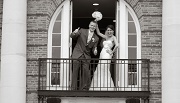 7 Main Street Middletown, CT, 06457 Phone: 860-854-6300 Toll-Free: 800-637-9851
Wedding packages make your event at the Inn easy and elegant
A wedding as classy and classic as Katherine Hepburn (who lived nearby) is yours at the Inn at Middletown, a distinct Federalist structure on the Main Street of Middletown in the beautiful Connecticut river valley. Built in 1810 as a home, this restored boutique hotel hosts intimate wedding ceremonies, large banquets, and private receptions. See yourself and your friends and families surrounded by Colonial-era furnishings, mahogany paneled walls and a dramatic, two-story curved staircase. Two rooms accommodate up to 120 guests and feature large picture windows overlooking historic Main Street; smaller weddings thrive in the intimate Patriot Room. Comprehensive wedding packages at different price points and professional planners help you every step along the way.
One Haynes Street Hartford, CT, 06103 Phone: 860-246-1881
Boutique hotel prime venue for chic ceremonies, receptions
Combining a rich 19th-century heritage with a sense of modern urban chic, the Goodwin, Hartford's boutique hotel, is a glorious backdrop for weddings of any size. Whether you have a guest list of 300 and opt for the Capital Ballroom with its spectacular chandeliers or want a quiet ceremony in a private suite with decorative fireplaces from the original building, the hotel has much to offer. Customizable menus (from artistic hors d'ouevres to sophisticated plated dinners) from the world-class Harlan Brasserie, a staff that attends to your day's every detail, romantic pre-ceremony, ceremony and reception venues and a complimentary wedding suite with set-aside blocks of rooms make the Goodwin the perfect place to exchange your vows.