Lower Connecticut River Valley
---
Find more great things to do and places to visit in this region.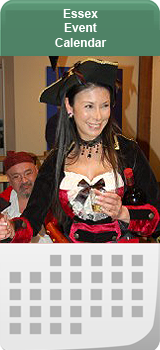 The Connecticut River cuts through all of New England, from Canada to the shore of Connecticut. Along the lower river valley in CT are delightful towns -- Essex, Deep River, Ivorytown, Old Saybrook, and others -- where the natural beauty and cultural entertainments will keep give you indoor and outdoor pleasures and discovery for days. .
Sites that echo the guns and glory of the Revolutionary War are found throughout Connecticut, and this famed river you can also enjoy maritime and seafaring museums, interesting galleries, spa treatments. Enjoy a luxurious meal at Old Saybrook's Saybrook Point Inn & Spa. People of every age in your travel group will enjoy the Essex Steam Train & Riverboat, a trip alongside the river in a historic excursion train, followed by a cruise in a paddle-wheel steamer. During winter, two companies host river cruises to see bald eagles that overwinter along the river.
Culture in the form of performing arts is easy to find. Ivoryton Playhouse and the Goodspeed Opera House present many live shows and seasonal fun, for instance, at Christmastime. The Florence Griswold Museum in Old Lyme tells the story of America's native Impressionist painters through their art, alongside gorgeous gardens. Gillette Castle in East Haddam was built by the stage actor who created the character of Sherlock Holmes. Many of the towns host seasonal events, like a famous lighted boat parade at the holidays.