Lower Connecticut River Valley
---
Find more great things to do and places to visit in this region.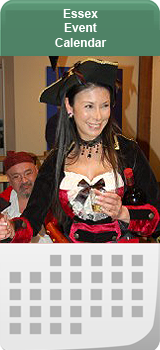 The picturesque Connecticut River traces a path through New England from Long Island Sound northward to the border with Canada. Some of the river's most beautiful towns are near the mouth in Connecticut, bearing the memorable names Old Saybrook, Old Lyme, Essex, Deep River, Ivoryton, Chester, and Haddam. Here you find town greens, white, steepled churches, and unique explorations, include a riverside train paired with a riverboat ride, and walking trails to a real castle.
Sites of the Revolutionary War are found throughout the Lower Connecticut River Valley, along with maritime and seafaring museums and fun art galleries. Old Saybrook is where you can kick back at the lavish Saybrook Point Resort & Marina. In Essex you can board the Essex Steam Train & Riverboat, a two-part trip along the river in a historic excursion train, followed by a cruise in a paddlewheel steamer. Two companies host river cruises to see bald eagles in winter.
Culture is abundant and really fun. Ivoryton Playhouse and the Goodspeed Opera House present many live shows. The historic house and gardens of the Florence Griswold Museum in Old Lyme tell the story of America's native Impressionist painters. Gillette Castle in East Haddam was built by the early 20th-century stage actor who came to embody the character of Sherlock Holmes. Many of the towns host fun seasonal events, like Deep River's huge fife-and-drum parade in mid-July.