Public places offer lots of walking and hiking in New Haven and south central CT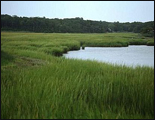 Mansfield Grove Road East Haven, CT Phone: 203-287-5658
This is one of Connecticut's newer and lesser known state parks – 61 acres along the west bank of the Farm River as it flows into Long Island Sound. Taking its headwaters to the northeast, the Farm River flows 16.5 miles on its way past the Park where visitors enjoy the sun, sights and salt air of Long Island Sound. There are several walking trails here, and they will take you across bluffs or along marshland to some lovely seaside views.
Park map.
entrances off Hosley Avenue Branford, CT Phone: 203-401-2654
Lake Saltonstall is home is many species of birds and forest animals. Here you can hike, jog, or bicycle along nine miles of trails, and learn about local wildlife on a one and one-half -mile interpretive nature trail. There is good freshwater fishing in the lake, which is stocked. A wheelchair accessible floating pier is located on site.
There are several named and marked walking trails, of various degrees of ease or difficulty. The Lake Saltonstall Trail is a loop trail and it is perfect for jogging, hiking, bicycling, or cross-country skiing. The inland trail weaves through spruce and pine groves and has spring wildflowers. The Ridge Trail is a dead-end trail that runs along the top of the Saltonstall Ridge, offering scenic views. The Vista Trail provides an overlook to the west.
Ansonia Nature and Recreation Center
10 Deerfield Lane Ansonia, CT, 06401 Phone: 203-736-1053
This park has two and one-half miles of nature trails. The land encompasses 104 acres of wooded hills and grassy fields bisected by streams, a two acre pond, wet meadows, and an upland swamp. The site provides habitat for many species of New England plants and animals.
Hours: Daily sunup to sundown; interpretive center open 9 a.m. t o 5 p.m. daily except on major holidays.
Admission: Free.
Information: ansonianaturecenter.org
Oregon Road and River Road South Meriden, CT, 06451 Phone:
The paved, multi-use Quinnipiac Gorge Trail starts at Lions Club Park. The trail follows a former rail bed westward along the Gorge with several beautiful views of the Quinnipiac River. Walking, bicycling, roller blades, wheelchairs welcome. Rating is Easy. Distance: 1.3 miles.
Permitted Activities: The trail is handicap accessible. Hiking and canoeing are permitted. Fishing is allowed with a state license. Motor vehicles prohibited.
Directions and Parking: Access is off River Road (CT Route 70). Handicap accessible parking is on Oregon Road. General parking is at the Dossin Beach near Hanover Pond. More parking is on Finch Avenue at the Cheshire town border.
Town of Meriden: 203-630-4259.
Map of Quinnipiac River Gorge Trail.
Edgewood Avenue New Haven, CT Phone: 203-946-8028
Lovely urban park; good for strolling, tennis, skateboarding, bird watching, relaxation
Lovely city park has many winding paths for strolling among plantings and ponds, watching bird life, and enjoying a restful urban atmosphere. See
full description
of Edgewood Park.
Lighthouse Road New Haven, CT Phone: 203-946-8019
Lighthouse tours, water sports, marine biology programs, paddling tours
Lighthouse Point in New Haven is at the eastern point of New Haven Harbor. Now inactive, the lighthouse protected ships in New Haven harbor for 73 years. Today, the park attracts visitors to the beach for swimming, fishing, boating (there is a public boat launch), and picnicking. Lifeguards are on duty during summer.
Walking Tours of Art at Yale University
The campus of Yale University in the city of New Haven is rich with public art and interesting architecture.
A very helpful map and self-guided walking tour (PDF)
of art on the Yale campus is available, with explanations and directions to public works by Maya Lin, Alexander Calder, Roy Lichtenstein, and others. Also, the Yale Visitor Center at 149 Elm Street leads free group walking tours of public art at Yale by request; call a week before the requested date.
bounded by Livingston Street, Davis Street, State Street and the Mill River New Haven, CT Phone: 203-946-6086
Walking, fishing, paddling, picnicking, and more are done at this riverside park
This 425-acre park offers nature and walking and bicycling trails, playgrounds, recreational areas, a bird sanctuary, and a spectacular view of Long Island Sound. Recreational opportunities include baseball fields and basketball courts; bicycling on paved roads; paddling on the Mill River; fishing and crabbing; football and soccer fields; ice skating; picnicking and playgrounds; an 800-foot self-guided nature trail; sledding.
Highlights of the park are climbing to the Summit of East Rock, which is accessible by foot, bicycle or car; the Trowbridge Environmental Center; the Pardee Rose Garden and Greenhouse (203-946-8142); and the Soldiers & Sailors Monument.
Park map.
Hours: Open sunrise to sunset.
Grove Street Cemetery
A beautiful, peaceful, and historic walk in an older city can usually be found at a garden cemetery.
Grove Street Cemetery
in New Haven, surrounded by regal Yale University, sits behind a stone wall and iron fence along Grove and Prospect streets. The cemetery, which has been called the Westminster of Yale, contains the graves of Yale luminaries, like Eli Whitney and Noah Webster. The cemetery was established in 1797; it beauty if enhanced by the architectural gem of an Egyptian Revival-style gateway entrance on High Street.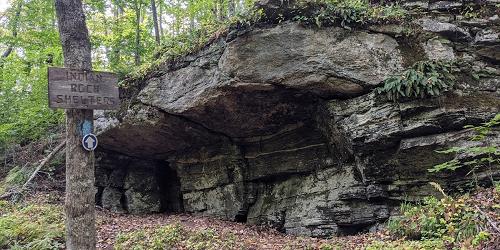 76 Lake Drive Madison, CT Phone:
The Indian Rock Shelters trail offers an unusual opportunity to visit the natural rock shelter home sites of early Native Americans. As you walk you can see excellent views of a rock ledge parallel on the other side of a low area. The forest HAS beech, maples, oaks, birches, white ash and hickory. The trail is a loop. Distance is one mile. Walking time is about an hour
Permitted activities: Only hiking is allowed. Dogs are allowed, but must be leashed.
Parking: Trailhead on Lake Drive.
Indian Rock Shelters trail map.
Mattabesett Trail -- Route 77 to Route 17
Route 77 and Fire Tower Road (north of Bluff Head Cemetery) Guilford, CT, 06437 Phone:
This five-mile-long and moderately difficult trail is part of the 220-mile New England Trail. Start your walk at the Bluff Head trail head parking area on Route 77 near Bluff Head Cemetery. This route is part of the Blue-Blazed Hiking Trail System. Bluff Head has wonderful southward views to Long Island Sound and north to the Coginchaug Valley. The trail is rocky and has some inclines.
Hours: Dawn to dusk
Information: http://www.newenglandtrail.org/