Connecticut's New Haven region has fine state and local parks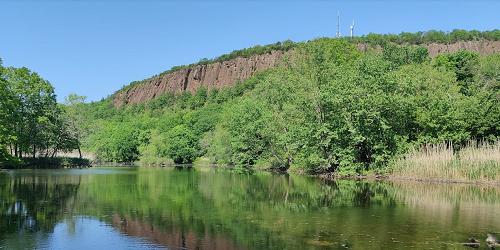 bounded by Livingston Street, Davis Street, State Street and the Mill River New Haven, CT Phone: 203-946-6086
Walking, fishing, paddling, picnicking, and more are done at this riverside park
This 425-acre park offers nature and walking and bicycling trails, playgrounds, recreational areas, a bird sanctuary, and a spectacular view of Long Island Sound. Recreational opportunities include baseball fields and basketball courts; bicycling on paved roads; paddling on the Mill River; fishing and crabbing; football and soccer fields; ice skating; picnicking and playgrounds; an 800-foot self-guided nature trail; sledding.
Highlights of the park are climbing to the Summit of East Rock, which is accessible by foot, bicycle or car; the Trowbridge Environmental Center; the Pardee Rose Garden and Greenhouse (203-946-8142); and the Soldiers & Sailors Monument.
Park map.
Hours: Open sunrise to sunset.
Edgewood Avenue New Haven, CT Phone: 203-946-8028
Lovely urban park; good for strolling, tennis, skateboarding, bird watching, relaxation
Edgewood Park is an important and well-loved outdoor resource for the people and visitors of New Haven. The park offers places to walk and jog, watch birds, do some cross-country skiing, play tennis, skateboard at Coogan Pavilion, or just relax by a lovely pond. The park has the Coogan Pavilion & Gazebo, a playground, several ponds and the city's West River, many walking trails and a sensory trail, a skate park, a dog run, and wetlands viewing station, and more.
Hours: Open year-round, daily, sunrise to sunset
200 Mount Carmel Avenue Hamden, CT, 06518 Phone: 203-287-5658
Hiking and trout fishing are best activities at this ridge top park overlooking New Haven
This park gets its name for a two-mile-long ridge of mountaintop that looks like a giant at rest. A two- mile walking trail leads to the observation tower on the peak of Mount Carmel, where hikers can experience an excellent view of Long Island Sound and New Haven.
Hiking map
Trout fishing is allowed; Sleeping Giant State Park is a designated
Trout Management Area.
Lighthouse Road New Haven, CT Phone: 203-946-8019
Lighthouse tours, water sports, marine biology programs, paddling tours
Lighthouse Point in New Haven is at the eastern point of New Haven Harbor. Now inactive, the lighthouse protected ships in New Haven harbor for 73 years. Today, the park attracts visitors to the beach for swimming, fishing, boating (there is a public boat launch), and picnicking. Lifeguards are on duty during summer.
Located on the Atlantic flyway, the park is one of the most popular spots for bird watching along the East Coast. The East Shore Ranger program offers programs about marine ecology, sailing history, and the history of the forts. The East Shore Rangers lead group tours to the top of the Lighthouse by advance reservations only. To plan a tour, call 203-946-0790.
Several water-based adventure programs, including canoeing, kayaking are conducted at Lighthouse. For information on either of these or the Canoe New Haven schedule, call the Outdoor Adventure Coordinator at 203-944-6768.
The Lighthouse Park Carousel is one of less than 100 in use today. It includes 72 figures on a 60 foot platform. The Lighthouse Park Splashpad is a series of fresh water fountains.
Hours: Gates open year-round, 7 a.m. to sunset; season is from April 1 to November 1.
Parking fees: New Haven registered vehicles, free; non-resident vehicles, $20/day, $100/season
Wintergreen Avenue Hamden, CT Phone:
Hiking, fishing, paddling
West Rock Ridge is a major feature of the New Haven region skyline, offering vast views of New Haven harbor and Long Island Sound. This small state park has areas for paddling, fishing, mountain biking, hiking, horseback riding, and picnicking.
Hours: The park is open for walk-in access from 8 a.m. to sunset. The south overlook drive to the summit is open for vehicles from Memorial Day through October.

1288 Boston Post Road Madison, CT Phone: 203-245-2785
Very large park on Long Island Sound offers swimming, salt water fishing, boardwalk, lots of camping sites
Connecticut's largest shoreline park offers over two miles of beach to enjoy swimming, strolling along the boardwalk, or just relaxing in the sun and surf. Activities include saltwater swimming, fishing, picnicking, hiking, fishing, paddling, bicycling, and camping. The Meigs Point Nature Center offers programs and activities for park visitors on a limited year round basis. Facilities include bathrooms, boardwalk, car top boat launch, concessions, nature center, picnic shelters, picnic tables, showers.
Hammonasset offers over 550 grassy campsites. Open for the season from May 21 through October 30 (call 203-245-1817).
Camping fees:
Camping fees: $35 a night for CT residents and $45 for non-Ct residents; rustic cabin is $70 a night for Ct residents and $85a night for non-CT residents.
Campground map.