Connecticut Water Parks in Mystic/Eastern
1650 Hartford-New London Tpke. (Rt. 85) Oakdale, CT, 06370 Phone: 860-443-4367
Splash and stay cool in the shadow of dinosaurs
New England's largest Splashpad is included with your admission to The Dinosaur Place at Nature's Art Village! This one-of-a-kind dinosaur-themed water park is one of Mystic County's premier attractions. The Dinosaur Place Splashpad is a zero-depth water playground with water features for every age group. Fun and engaging water tables will entertain infants and toddlers for hours, while over 30 dinosaur-themed sprinklers, dumping buckets and water guns will have the older children screaming with joy. Just added in 2015, the Vortex Superwheel is a gigantic spinning wheel which pours thousands of gallons of water down on everyone waiting below. The Splashpad also features a dinosaur "ribcage" waterfall, dueling Tyrannosaurus Rex and Velociraptor-headed water cannons and much more! There is seating available surrounding the Splashpad and changing rooms located right on site. Water shoes or flip-flops are required to use the Splashpad.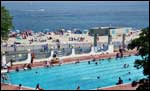 1225 Ocean Avenue New London, CT, 06320 Phone: 860-447-3031 Toll-Free: 800-510-7263
Water everywhere and in every fun form at ocean park
At Ocean Beach Park, there are so many ways to enjoy the water, you'll need to have a strategy in hand as soon as you park the car. There's the popular triple waterslides attraction, where the thrills are only matched by the spectacular views. There's the 50-meter Olympic-sized swimming pool (with changing rooms and lockers). Children under 8 can have a blast dashing in and out of the spraypark. And, of course, there's the half-mile of carefully groomed sugar-sand beach, wide enough for everyone to be able to really spread out. Even the boardwalk health club overlooks the water. If you're looking for something a little quieter but still water-centric, a nature walk overlooks beautiful Alewife Cove.