Connecticut Water Parks in Mystic/Eastern
1650 Hartford-New London Tpke. (Rt. 85) Oakdale, CT, 06370 Phone: 860-443-4367
Splash and stay cool in the shadow of dinosaurs
New England's largest Splashpad is included with admission to The Dinosaur Place at Nature's Art Village! This dinosaur-themed water park is one of Mystic County's premier attractions. The Splashpad is a zero-depth water playground with water features for every age group. Fun water tables will entertain infants and toddlers for hours, while over 30 dinosaur-themed sprinklers, dumping buckets and water guns will have the older children screaming with joy. The Vortex Superwheel pours thousands of gallons of water down on everyone waiting below. The Splashpad also features a dinosaur "ribcage" waterfall and dueling Tyrannosaurus Rex and Velociraptor-headed water cannons. Seating is available surrounding the Splashpad and changing rooms. Water shoes or flip-flops are required at the Splashpad.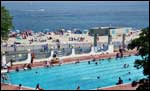 1225 Ocean Avenue New London, CT, 06320 Phone: 860-447-3031 Toll-Free: 800-510-7263
Water everywhere and in every fun form at ocean park
At Ocean Beach Park, there are so many ways to enjoy the water, you'll need to have a strategy in hand as soon as you park the car. There's the popular triple waterslides attraction, where the thrills are only matched by the spectacular views. There's the 50-meter Olympic-sized swimming pool (with changing rooms and lockers). Children under 8 can have a blast dashing in and out of the spraypark. And, of course, there's the half-mile of carefully groomed sugar-sand beach, wide enough for everyone to be able to really spread out. Even the boardwalk health club overlooks the water. If you're looking for something a little quieter but still water-centric, a nature walk overlooks beautiful Alewife Cove.