Public places offer lots of walking and hiking in Mystic and eastern CT
Walks and hikes welcome all kinds of visitors to the Mystic region. Some walks, like Bluff Point Reserve, are on the coast, and other, inland hikes offer trails -- paved and unpaved -- through woods, along wetlands, and among landscapes of boulders or mountain laurel groves. Trails and paths for walking and hiking cover a range of abilities, from an easy stroll to rocky trails.

Perched aside a wooded section of the Connecticut River, Essex is the quintessential New England riverside town of historic clapboard buildings and tree-lined streets. Its three village centers have fine examples of Colonial and Federal architecture. A walk through town would start at the Essex town dock at the end of Main Street and then proceed up Main Street, passing the Connecticut River Museum and Griswold Inn. Where Main Street splits, turn left onto North Main and walk toward the Riverview Cemetery. Continuing, take a left on Grove Street and a left on Prospect Street to loop back to your starting point.

Depot Road Groton, CT Phone: 860-444-7591

This coastal reserved offers beautiful walks through a wooded peninsula and along a rocky coastline. The 4-mile loop trail to the bluff passes along the Poquonock River and through wooded and open areas until opening entirely onto the Sound. Fun for bird watching.

Park map.

Palmer Neck Road Pawcatuck, CT Phone:
This wildlife management area displays the varied and beauty of coastal Connecticut. It has four miles of trails for walking and hiking, through forest and tidal marshes, with great views of birds and waterfowl. Watch for a rare New England cottontail rabbit. Hikers should be aware of the presence of deer hunters in hunting season.
See
full description
of Barn Island Wildlife Management Area.
Birch Road Mansfield, CT Phone:
Small park near UConn; nice for quiet walks and picnicking near brook and waterfall
Nice walks along a brook to a lovely waterfall are found at this small public park, only a short distance from the University of Connecticut at Storrs.
Trail guide.
See
full description
of Shelter Falls Park.
Center at Pomfret (Audubon Bird Conservation area)
218 Day Road Pomfret Center, CT Phone: 860-928-4948
Maintained by the Connecticut Audubon Society. Designated trails run throughout the property. The Audobon Society hosts frequent guided birdwalks and workshops on gardening and area wildlife. The Center at Pomfret manages the 168-acre Trail Wood Sanctuary. See Santuary Map on Center's website
Hours: Trail Wood Sanctuary, year-round, daily, dawn to dusk
Information: www.ctaudubon.org/center-at-pomfret/
The Niantic Bay Boardwalk, rebuilt in 2016, provides a 1-mile promenade along Niantic bay, with stunning views of Long Island Sound, lapping waves, and the whoosh of trains passing on nearby tracks.
Moosup Valley State Park Trail
Main Street Moosup, CT Phone:
This trail runs for 6 miles along the bed of an old railroad. The surface is ballast, crushed stone, dirt, grass, gravel, and sand. It is used by walkers, bicyclists, and cross country skiers. Much of the trail follows the Moosup River into Rhode Island. The trail begins with a large, re-decked trestle bridge and lateer it becomes more rural and wooded. Views of a quarry.
Information: http://bit.ly/WpYiY5
Route 171 Union, CT Phone:
Large forested park with lots of hiking trails; water sports at one lake and 3 ponds
This 9,000-acre combine state park and state forest have an extensive trail system, with marked trails from Bigelow Hollow to the Breakneck area for a distance of six miles. Trails west of the park road both form loops and are shorter than trails to Breakneck. The trail system is maintained by a href="http://www.ctwoodlands.org/" target="_blank"> Connecticut Forest and Park Association. The trails are usable for cross country skiing and snowmobiling when there is snow cover.
Hiking map
See
full description
of Bigelow Hollow State Park and Nipmuck State Forest.
244 West Main Street (Route 156) East Lyme, CT Phone: 860-739-5471
Bordered on the west by a tidal river and to the east by a broad salt marsh, Rocky Neck is popular for swimming, sunning, camping, picnicking and hiking. People who love to walk and hike will find many trails in the Rocky Neck network, and you may wish to combine a couple for your out-and-back. Nearer the shoreline, look for Look for ospreys, cranes, and herons or other waterfowl.
Park map.
off of Route 6 at 23 Potter Road Hampton, CT Phone:
Great for hiking on short or long trails; enjoying nature; a boat ramp is available
This state forest has a very extensive trail system for walking, bicycling, horseback riding, and enjoying nature. Trail range from short and easy to long. Some have printed brochures with information on the plant life of the area.
See
full description
of James L. Goodwin Forest.
Mountain Laurel Sanctuary in Nipmuck State Forest
Near intersection of routes 89 and 190 Union, CT Phone: 860-424-3200
Leisurely walking trails wind through the mountain laurel, Connecticut's official state flower. Viewing is best in June and July, when the laurel are in bloom. The sanctuary entrance is a short distance from the intersection of routes 89 and 190 and is well marked. Pets must be leashed.
Hours: 8 a.m. to sunset.
Information: http://1.usa.gov/WOvapY
147 Wolf Den Drive Pomfret Center, CT Phone: 860-928-6121
Good park for camping, swimming, boating, hiking; cool rock formations to explore
Dennis Farm Dennis Road Pomfret, CT The Nature Conservancy maintains this two-mile trail, which is an old farm road, through former farm property. It is now mainly a forest of oaks, The Route passes a beaver pond and returns by way of Old Kings Highway, a grass-covered walk. Also a good site for cross-country skiing and bird watching.
Hours: Dawn to dusk.
Information: http://bit.ly/XjksXI
Rock Spring Wildlife Refuge / Preserve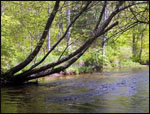 Pudding Hill Road (Route 97) three miles south of Route 6 Scotland, CT Phone: 203-568-6270
The three-mile loop trail has options for shorter hikes leading through mature oak forest, open fields, and along Little River on this 450-acre property. Trails lead past glacial kettle ponds to an overlook of the Little River Valley. Used for hiking, cross country skiing, bird watching. Rock Spring preserve and parking area are on the right, just north of the James V. Spignesi Jr. Wildlife Management Area.
Information: http://bit.ly/VFjVVR
This four-mile trail winds along two rivers. It is paved and is used by walkers, bicyclists, and cross country skiers. The Quinebaug River Trail has two segments. The southern segment follows the Quinebaug River in Danielson, beginning at Palmer Street and Prospect Avenue, crossing a bridge over Fivemile Pond, then heading south along the east bank of the river to Gloria Avenue. The northern segment runs between the Holiday Inn just west of the Attawaugan Crossing/Ballouville Exit off I-395 and Park Road in Putnam. The segment parallels Tracy and Park roads.
Information: http://bit.ly/WpYiY5