Farmers markets of Mystic Connecticut offer fresh fare

Location changes seasonally; see below Mansfield Center and Storrs, CT Phone:
Everything sold at Storrs Year-round Farmers Market is grown and produced in Connecticut, so the offerings change with the seasons. Featured items include heirloom fruits and vegetables, heritage breed pork, organically-raised chicken, jams and jellies, goats milk cheeses, fresh-baked goods, vegetarian prepared foods, maple syrup and honey, and more.
Summer Dates and Hours: Mansfield Town Hall, 4 South Eagleville Road, Storrs; May through November on Saturdays, 3-6 p.m.
Winter Dates and Hours: Mansfield Public Library, 54 Warrenville Road, Mansfield Center; December to April; two Saturdays each month, 3-5 p.m. Check market website for dates.
Summer: Town Docks; winter: Velvet Mill, 22 Bayview Avenue Stonington, CT Phone:
The market has 25 vendors selling locally grown vegetables and fruits, jams, breads, pies and baked goods, meats, pork, fish, shrimp, scallops, goat cheeses, lemonade, maple syrup, honey, flowers, decorative plants and more, depending on the season. Craft vendors sell jewelry, wooden bowls, soaps, painted signs, printed fabrics and scarves. Playground for kids to enjoy. Dogs are welcome to come and socialize.
Summer Location, Dates and Hours: Town Dock, late May through mid- October, Saturdays, 9 a.m.-noon
Winter Location, Dates and Hours: the Velvet Mill, 22 Bayview Avenue, mid-October through May, Saturdays, 10 a.m.-1 p.m.
651 Norwich Rd. / Route 12 Plainfield, CT Phone:
Dates and Hours in 2017: Season opens June 20; Tuesdays, 4-6 p.m.

Maple Farms Park, 45 Bozrah Street Bozrah, CT, 06334 Phone: 860-889-2689
Vendors sell Connecticut-grown vegetables and fruits, along with flowers, cheese, cut flowers, honey and beeswax candles, maple syrup and maple products, chocolate, dog treats, wood fire pizza, and more. In addition the market will also feature local artisan products such as soaps, lotion, lip balm, pottery, fiber products, jewelry, oil cloth bags & accessories, bird houses, floral wreaths and lavender sachets & pillows. Local musicians will be performing weekly at the Market, and special guest vendors and theme nights will be featured throughout the season.
2016 Dates and Hours: July 8-October 14 on Fridays, 4-7 p.m.

120 Pequotsepos Road, across from the Denison/Pequotsepus Nature Center Mystic, CT Phone: 860-536-8377
Located on the scenic fields and meadows of the Denison Homestead, the Denison Farm Market sells local produce and baked goods from community farmers while children play outdoors. Market sells seasonal fruits, vegetables and local products ranging from honey and jams to herbal soaps. During your visit you can tour the 1717 house museum, walk the nature trails, or visit the Denison Pequotsepos Nature Center.
Dates and Hours: June-October; Sundays; noon-3 p.m.

Killingly Library Parking, 25 Westcott Road Danielson, CT Phone:
Many different all locally grown fruits, vegetables, herbs, meat, baked goods, goat milk soap and eggs. Sold by the farmers who grew them. Its always something new come check us out. WIC certified.
Dates and Hours: early May to end of October; Saturdays, 9 a.m.-noon

Riverview Marketplace, 18 Kennedy Drive Putnam, CT Phone:
Local farmers offer their own fruit, vegetables, and flowering plants for sale, freshly picked, often just before the market opens. All are invited to get the freshest food at reasonable prices.
Dates and Hours in 2017: Monday market season starts June 12; open Mondays, 3:30-6 p.m. Thursday market season starts May 4; open Thursdays, 3:30-6 p.m.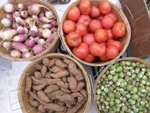 Russo Park, at DePalma Court and Chapel Street New Haven, CT Phone:
Located in the historic Wooster Square community, this market features everything from fresh fruits and veggies to poultries, beef, fresh seafood, dairy products, goat cheese, herbs, flowers, homespun wool, sprouts and even processed items like baked goods, and bath and body products. A generally warm and cheery atmosphere makes this market a must.
Dates and Hours:April 8 to mid-December; Saturdays, 9 a.m.-1 p.m.

The Hale Homestead, 2299 South Street Coventry, CT, 06238 Phone: 860-742-4062
This summer market at the historic Nathan Hale Homestead brings guests delicious food, artisan ware, entertainment, and sustainable-living programs. The market features the work of local artists and artisans, like hemp clothing, goat's milk soaps, wrought iron, beeswax candles, stoneware, herbal tinctures, bead work, cotton tote bags, and hand-spun yarns. Live entertainment. Pet a goat, have lunch in a grassy spot under the maple trees, or give your child a ride in a red wagon.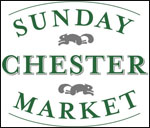 Main Street Chester, CT Phone:
Local vendors to sell produce, meats, cheeses, breads and more. Music is provided along with a bistro area so you can sit and have a cup of coffee or a slice of pizza. All vendors accept cash. Most except checks and credit cards.
Dates and Hours: June 11- October 8 on Sundays, 10 a.m.-1 p.m.