Connecticut beaches offer great swimming variety from ocean to lakes to rivers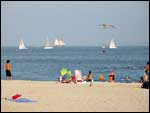 1225 Ocean Avenue New London, CT, 06320 Phone: 860-447-3031 Toll-Free: 800-510-7263
Rated one of the best beaches by National Geographic
There's family fun and more at Ocean Beach Park. New this year is our Splash Park for kids under 8. For more water fun we have the ocean, of course, an Olympic-size swimming pool and triple waterslide. Our award-winning lifeguard staff is on duty for your safety. For more fun we have rides, mini-golf, and a Family Fun Center with a video arcade. Kids can enjoy our playground and adults can work out in the health club. The nature walk and observation deck let you enjoy our natural beauty.

When all the activity makes you hungry you have dining choices; our full-service restaurant, a food court, or ice cream stands. Ocean Beach Park can also accommodate picnics and corporate events. Our nightly entertainment schedule includes Classic Car Cruises on Mondays; kids movies on the beach Tuesday; live magic on Wednesday; Sock Hop on Thursday; and live bands on Friday.

Parking fee includes park admission for everyone riding in the car. Weekends, $22; weekdays, $17; week nights, $6; movie and magic show, $6; holidays, $30; Monday cruise night, free; fireworks nights, $6; pre- and post-season weekends, $10. Season parking decals: New London resident, $75 year-round; New London senior, $25; non-resident, $110.
Scenic, simple, salt-kissed and satisfying
Step onto DuBois Beach for a quiet resite after experiencing the cafes, shops and historic homes of this beautiful borough. Located at the tip of the peninsula, this quaint sandy sliver delivers cooling breezes and salt satisfying air on one of New England's most picturesque and secluded spots. Families with small children will love the warm shallow waters. You can enjoy access to the beach in season for a small daily fee or purchase a summer-long beach pass. Lifeguards are on hand all summer. When leaving, pick up the path at the waterfront gazebo in front of Stonington Commons on Water Street and walk along beautiful Stonington Harbor. Be sure to stay for the sunset.
End of Hartford and Swan avenues Old Lyme, CT Phone:
Sound View offers numerous attractions including beach front restaurants, ice cream, a historic carousel, and its own craft beer. During the summer, the beach hosts many public entertainments, including a pancake breakfast, bird watching, movies under the stars, a road race, live music and a Fourth of July parade. There is not lifeguard on duty. Prohibited: alcoholic beverage, pets, motor vehicles, glass containers, ball playing, open fires, fireworks.
Parking: Old Lyme residents with stickers park for free. Non-residents may use the town parking lot, private lots, and street parking for a fee. Fees are weekdays, $5 for two hours; weekends and holidays, $7 for two hours. Payment is at kiosks, which accept cash, Master Card and Visa.
244 West Main Street (Route 156) East Lyme, CT Phone: 860-739-5471
Sandy beach in CT state park; parking fees charged; lifeguards on duty Wednesdays through Sundays
A white, sandy ocean beach is waiting at this popular park on Long Island Sound. Lots of other water sports and walks and bird watching are features of summer fun at this park.
Hours:
Daily, 8 a.m. to sunset.
Fees:
Memorial Day-Labor Day: weekdays, $9 for Connecticut vehicles and $15 for out-of-state vehicles; weekends and holidays, $13 for CT vehicles and $22 for out-of-state; fees after 4 p.m. on all days are half the day rate. Mid-April to Memorial Day and Labor Day-October: parking is free on weekdays and in-state fees apply on weekends. Parking is free off-season.
See
full description
of Rocky Neck State Park
Route 154 Old Saybrook, CT Phone: 860-395-3152
Open Memorial Day - Labor Day; parking fee
Beachfront is 100 yards long and includes a concession stand, playground, changing rooms, bathrooms, shower tower. Lifeguards are on duty during operating hours. Open to Connecticut residents and non-residents. Managed by the town of Old Saybrook.
Parking fee: for non-residents, weekdays, $20 per car; weekends and holidays, $30 per car.
257 Atlantic Avenue Westerly, RI Phone: 401-596-9097
Ocean beach operated by the State of Rhode Island, but close to SE Connecticut; parking fees charged
Seven miles of sandy, white beach, clean, clear, water with moderate surf little undertow. Parking for 3,000 cars. Picnic area, restroom, telephone, complete wheelchair access, warning signals for blind people, fire alarm signals for deaf people.
Season & Hours: May through Memorial Day, open weekends only, weather permitting; Memorial Day through Labor Day, open daily, 9 a.m.-6 p.m.
Fees: Weekday resident, $10 (senior, $5); non-resident, $20 (senior, $10). Weekend resident, $14 (senior, $7); non-resident, $28 (senior, $14). Season rate resident, $60 (senior, $30); non-resident, $120 (senior, $60).