Farmers markets of Litchfield Connecticut offer fresh fare
Summer: Center School, Woodruff Lane; Winter: Litchfield Community Center 421 Bantam Road Litchfield, CT Phone: 860-567-8302
Vendors sell seasonal fruits and vegetables; herbs and mushrooms; eggs and pasture-fed beef, bison and lamb; breads; pies, cider doughnuts and baked goods; jams and jellies; chocolates; goat cheese; honey; maple syrup; balsamic vinegar, olive and grape seed oils; and goat milk soaps. Music, guest artists, children's activities and workshops happen most market days.
Summer Location, Dates, Hours: Center School Parking Lot, Woodruff Lane, Litchfield; mid-June to late October; Saturdays, 10 a.m.-1 p.m.
Winter Location, Dates, Hours: Litchfield Community Center, 421 Bantam Road; November to early June; Saturdays, 10 a.m. - 1 p.m. January to May market is every other Saturday.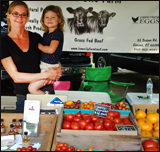 Town Hall, 19 Maple Avenue Norfolk, CT Phone:
Locally produced fruits and vegetables as well as creations of some artisans from the region are featured. Also: breads, cheese, eggs, honey, syrup, plants, flowers, herbs. There's live music and occasional chef demonstrations or children's activities. The market is in front of Town Hall in summer and inside Town Hall in winter; a holiday market is conducted in November and December. Email: manager@norfolkfarmersmarket.org.
Dates and Hours: May 13 through October 7; Saturdays, 10 a.m.-1 p.m.
Fairfield Hills at Wasserman Way (Exit 11 off I-84 and Route 25) Newtown, CT, 06482 Phone:
This is Connecticut's exclusively organic farmers market featuring heirloom vegetables, flowers, baked goods and lots of artisans with handmade works. Pony rides and a children's play pool are available weekly. The market is on, rain or shine.Pay with cash, WIC FMNP coupons, seniors coupons.
2016 Dates and Hours: June-October on Tuesdays, 2-6 p.m.,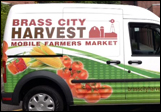 Waterbury Green (summer) and 86 Bank Street (winter) Waterbury, CT Phone: 203-759-7171
Brass City Harvest oversees the seasonal Farmers' Market on The Green held on the Waterbury Green from July through October. Brass City Harvest operates a winter market at 86 Bank Street in Waterbury.
The market offers beef, poultry, fresh eggs, dairy, goat cheese, honey, maple products, artisan and Connecticut specialty foods. The market offers a CSA annually for 18 weeks. (half share is $300; full share is $600). The market accepts SNAP, all credit cards, and Farmers Market Nutritional Coupons.
Dates and Hours in 2017: Thursday and Friday, 10 a.m. to 3 p.m. (winter hours).
42 Ives Road Goshen, CT Phone:
Wines made on site, organic produce, maple syrup, raw honey, hand-crafted soaps, wooden and fiber crafts, bread and baked goods, food and beverages, always live music.
2016 Dates and Hours: July 2-September 24 on Saturdays, 10 a.m.-1 p.m.
Danbury Green, Ives Street Danbury, CT Phone:
Connecticut-grown produce, shoreline shellfish, fresh bread and eggs. WIC certificates and senior coupons accepted. Free parking.
Dates and Hours: June-October, Saturdays, noon to 2 p.m.