Gardens in Hartford/Central Hartford/Central
Harriet Beecher Stowe loved her gardens and believed in the healthful value of plants. Stowe planted gardens; exchanged plants with others, and pressed flowers into diaries. The Stowe Center gardens historical and new plants, ranging from shade-loving perennials to annuals to meadow flowers. The gardens are in bloom from late May through September. The gardens include Connecticut's largest Merrill magnolia and the Stowe Dogwood cornus florida rubra, a pink dogwood believed to be from Stowe's time. The Stowe Center gardens and grounds are open for strolling. Garden tours may be arranged by calling 860-522-9258 ext. 317. The Harriet Beecher Stowe Center is part of the Connecticut's Historic Gardens consortium. Self-guided
garden tour.
For additional information
click here.
Elizabeth Park Rose Gardens
Corner of Prospect Avenue and Asylum Avenue Hartford, CT Phone: 860-231-9443
The park's world famous rose garden is the oldest municipally operated rose garden in the country. The two-and-a half-acre rose garden has 15,000 plants in about 800 varieties of roses. The park is also home to a rock garden and specialized gardens of annuals, herbs, and perennials.
Hours: Year-round, daily, dawn to dusk.
Information: www.elizabethpark.org
55 South Main Street Suffield, CT, 06078 Phone:
Formal gardens and an ornate fence enhance the beauty of this house, a fine example of a prosperous 18th-century New England family. See
full description
of Hatheway House.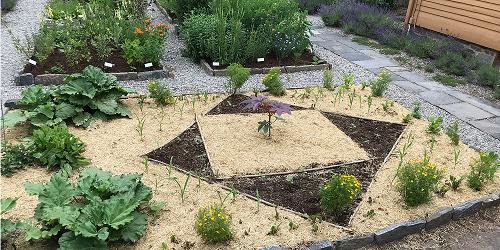 Hayden Hill Road, off Route 154 Haddam, CT, 06438 Phone: 860-345-2400
This three-story, 1794 home has been restored to reflect the lifestyle and furnishings of the period. A garden on the property features herbs, vegetables, and flowers.
The house's gardens were redesigned in the 1980s in the Colonial Revival style with granite-edged beds and gravel paths, using plants commonly grown in household gardens in the lower Connecticut River Valley in about 1830. Most of the garden is now devoted to herbs used for cooking, medicine, dyeing, fragrance and other household uses, with a small bed featuring vegetables common in gardens in the early 1800s and a few old-fashioned annuals. Over 50 varieties of herbs are planted in the garden, including many of the ones Thankful Arnold would have used.
Hours: Open year-round; Wednesday, 9 a.m.-3 p.m.; Thursday, 2 -8 p.m.; Friday, noon-3 p.m.; also from Memorial Day to Columbus Day, Sundays, 1- 4 p.m.
Admission: Adults, $4; seniors, $3; children, $2.
1329 West Middle Turnpike Manchester, CT, 06040 Phone: 860-528-0856
The park contains 250 acres of gardens, open fields, woodlands, ponds, picnic areas, sports facilities, and other attractions. There are three sets of public restrooms in the park, and all are handicapped accessible.
Admission: Cars: Monday - Friday, $4; weekends and holidays, $5
59 Hidden Lake Road Higganum, CT, 06441 Phone: 860-345-4290
Formal gardens, tea and gift shop in the Higganum section of Haddam. Formal gardens include a Persian-style knot garden, an 18th-century style garden with geometric walkways, and a topiary garden with boxwood, roses and ivy garlands surrounding a fountain. These architectural gardens are carefully incorporated into the landscape around a restored 18th century farm house.
Hours: Tea shop and Christmas Shop open first three weekends in November, from 10 a.m. to 5 p.m. After Thanksgiving Day, open every day except Mondays from 10 a.m. to 5 p.m. through Christmas Eve. Gardens Open: Year-round, Saturday - Sunday, 10 a.m. - 5 p.m.