Hartford Connecticut region has facilities to host conferences
Hotels with conference centers in the Hartford, CT area offer space and support services for business conferences and corporate meetings and retreats. Among the amenities are business centers with computers, fax, and high-speed Internet connections; dining options for groups of various sizes; team-building programs; after-hours sessions; golf and other outdoor activities; and professional event-planning staff.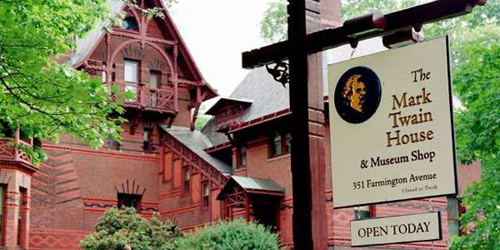 351 Farmington Avenue Hartford, CT, 06105 Phone: 860-247-0998
Be inspired by having your meeting in the Mark Twain House
Your historic occasion deserves a historic location. The Mark Twain Museum Center offers intimate conference rooms and a lecture hall-style auditorium that accommodates groups from 10 to 175, with projection capabilities, white boards, and meeting tables available in-house. The impressive Great Hall allows for sit-down dinner for up to 100 guests or cocktail parties for up to 200. Our bright and airy cafe space on the second floor opens directly onto a terrace complete with tables, chairs and sun-umbrellas. Use our chairs, tables, linen and catering services or utilize your own. The Mark Twain House and Museum is fast becoming the region's premier destination for an affordable event.