Public places offer lots of walking and hiking in Fairfield and southwest CT
10 Woodside Lane Westport, CT Phone: 203-227-7253
Natural history museum with exhibits for children, live animals, trails, playground and a gift shop are all part of this wildlife sanctuary. This 62-acre property has several easy trails, including a universal access trail that can be used by people in wheelchairs or using walkers. It is an old farm and still shows evidence of stone walls, open fields, and wagon roads through the woods. Dogs are not permitted on the trails.
Admission: Adults and children older than 12, $7; children and seniors, $5. Grounds and outdoor bird enclosures free.
Hours: Open: Year-round, daily except major holidays
Information: www.earthplace.org
Newman-Woodward Trail (20 minutes) winds through an oak and beech forest with high leaf canopy and silvery trunks.
Wadsworth Trail (15 minutes) follows a wetlands. Many amphibians live in the standing water in spring. Good trail to see ferns and wildflowers.
Universal Design Nature Trail is accessible to people wheelchairs or using walkers. The trail winds through an open meadow where native grasses and abundant birdlife can be found.
High Woods Trail (20 minutes) travels through open fields and mixed hardwood forests. Good location for watching hawks in the fall.
Eloise A. Ray Trail (20 minutes) is an old farmstead now covered with locust trees and shrubs. Good trail for bird watching.
Swamp Loop Trail (30 minutes) is the best for viewing spring and summer wildflowers. The trail winds past a swamp, a freshwater stream, a pond, and woodlands. Watch letterboxes along the trail.
New Canaan Nature Center
144 Oenoke Ridge New Canaan, CT, 06840 Phone: 203-966-9577
Take a fascinating look into the science and nature in the area. Set on 40 acres, the nature center features gardens and a solar-heated greenhouse, as well as many trails, exhibits, an arboretum, live animals, and a maple sugar shed.
Hours: Grounds open dawn to dusk daily; buildings and officer open Monday-Saturday, 9 a.m.-4 p.m. Donation requested.
Information: www.newcanaannature.org/
Mianus River Preserve & Park / Cary Road Nature Preserve / Mianus Pond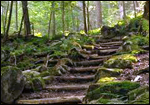 Cary Road Greenwich/Stamford border, CT Phone: 203-977-4692
This preserve begins 1,000 feet north of the Post Road on the eastern side of Mianus Pond. It is a haven for hikers, with undisturbed woods and a steep shoreline and lovely views. Foot access is from the northern ends of Westview Place and Cary Road.
To get there: Take U.S. 1 toward Stamford; after leaving Cos Cob and crossing the Mianus Bridge turn left onto Cary Road. Mianus Park is on Cary Road.
Hours: Year-round, daily, daylight hours.
151 Brookdale Road Stamford, CT Phone: 203-322-6971
This large property offers nature viewing and education, along with lots of marked walking trails. Guided tours during warm seasons visit the Cottage, Perennial & Sundial Gardens; Red Maple Wetlands & Wildflower Meadow; Fall Wildflower & Tree Identification; and Champion & Notable Tree Collection. See
full description
of Barlette Arboretum.
Connecticut Audubon Society Center at Fairfield -- Larsen Wildlife Sanctuary
2325 Burr Street Fairfield, CT Phone: 203-259-6305
The Larsen Sanctuary is next to the Audubon Center at Fairfield. The land has streams, ponds, forest, fields, and seven miles of trails and boardwalks with information signs. There is a wheelchair-accessible trail call the Chiboucas Trail. A brochure and trail map are available at the Center. There is an admission fee except for Audubon members and Fairfield residents.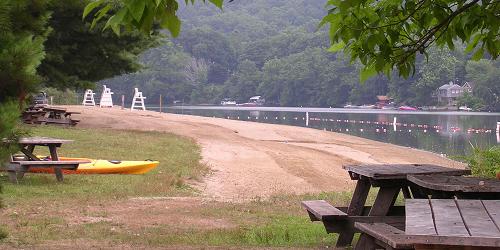 Howe Avenue Shelton, CT Phone: 203-735-4311
Sweet riverside park for water sports and picnicking. Easy walking trails along the river.
This park along the Houstonic River has mapped walking trails through beautiful woods.
Park map
. See
full description
of Indian Well State Park
613 Riversville Road Greenwich, CT Phone: 203-869-5272
This full-service nature center with lots of exhibits and activities also offers 7 miles of walking trails. See
full description
of Audubon Center of Greenwich.
Connecticut Audubon Society Birdcraft Museum and Sanctuary
314 Unquowa Road Fairfield, CT, 06824 Phone: 203-259-0416
Historic museum highlights natural history of the state with dioramas, wildlife exhibits, and dinosaur footprints. Adjacent 6-acre sanctuary with trails.
Hours: Tuesday-Friday, 9 a.m.-1 p.m. The six-acre Birdcraft Sanctuary is open daily, year-round, from dawn to dusk.
Information: www.ctaudubon.org/birdcraft-museum.
33 Pent Road Weston, CT Phone: 203-226-4991
This is the Nature Conservancy's largest preserve in Connecticut. It protects part of the watershed of the Saugatuck River. The property includes woodlands, wetlands and rock ledges and a series of north-south ridges and valleys woven with streams and swamps. Good place for hiking and bird watching.
Trail map.