Museums in Fairfield, Connecticut range from fine art to circus history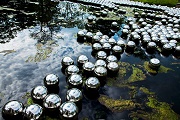 199 Elm Street New Canaan, CT, 06840 Phone: 203-594-9884
Unique architectural treasure in New Canaan
This remarkable showcase for contemporary architecture was the country home and is now a museum of architect Philip Johnson's work and style. You'll find 14 unique structures each with their own function. The Glass House is a clear box, without walls, without privacy in fact, not a single house at all. Instead of walking from room to room, Johnson walked from building to building on paths criss-crossing his property. The pavilion was designed for parties and viewing the scenic landscape. Johnson slept and read in the Brick House and studied and worked in the library. The Grainger had air conditioning and the TV. Today the entire 49-acre compound is a National Trust Historic Site. Open May 1 to November 30.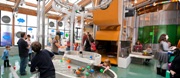 Matthews Park - 303 West Avenue Norwalk, CT, 06850 Phone: 203-899-0606
The kids will never want to leave this engaging, interactive museum
The only problem with taking your kids to the interactive Stepping Stones Museum for Children will be persuading them it's time to go home. There is so much to do! Little ones will love being residents of Tot Town, where babies roam activity mats and toddlers can explore a school bus. Older children will pretend to finish walls, paint and apply wallpaper in the Build It exhibit, or learn about the effect of art and dance on their emotions in Express Yourself. And everyone will be amazed by the 27-foot kinetic sculpture ColorCoaster, films shown in the Multimedia Gallery and daily drop-in programs in everything from engineering to zumba for kids. Outdoors, there's a playground and six community gardens (including one for butterflies).
Connecticut Audubon Society Birdcraft Museum and Sanctuary
314 Unquowa Road Fairfield, CT, 06824 Phone: 203-259-0416
Historic museum highlights natural history of the state with dioramas, wildlife exhibits, and dinosaur footprints. Adjacent 6-acre sanctuary with trails.
Hours: Tuesday-Friday, 9 a.m.-1 p.m. The six-acre Birdcraft Sanctuary is open daily, year-round, from dawn to dusk.
Information: www.ctaudubon.org/birdcraft-museum.
Stamford Museum & Nature Center
39 Scofieldtown Road Stamford, CT, 06903 Phone: 203-322-1646
Children and parents can take part in all sorts of activities and experiences in nature surrounded by this working farm, hiking trails, playground, handicap-accessible boardwalk, and planetarium. Check website for programs, hours, and admission. Information: www.stamfordmuseum.org.
The Barnum Museum
820 Main Street Bridgeport, CT, 06604 Phone: 203-331-1104
Dedicated to the life of circus imnpresario Phineas Taylor Barnum and those who were influenced by his presence in their lives. 1892 building houses exhibits including a miniature circus model, ancient mummy, historic costumes, Tom Thumb carriages. Museum store. Hours: Thursday and Friday, 11 a.m.-3 p.m. Admission: Adults, $8; seniors over age 65 and and children age 4 to 17, $5; students, $5. Information: www.barnum-museum.org.