Historic homes in Fairfield, Connecticut, bring state's past to life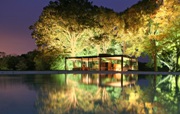 199 Elm Street New Canaan, CT, 06840 Phone: 203-594-9884
National Trust Historic Site honors architect Phillip Johnson.
Glass House is the former country home of architect Philip Johnson. Rather than house with a single interior divided by walls, it's an iconic collection of 14 structures each with their own function. Set on 49 acres in New Canaan and certified as a National Trust Historic Site, the property serves today as a museum and offers visitors a unique glance into Johnson's remarkable architectural style and personality. The Pavilion in the Pond was for gatherings and views of the rustic landscape. The Brick House was where Johnson read and slept. The stucco studio served as workplace and library and Grainger, a warm weather retreat, had both air conditioning and a television. Open for tours from May 1 to November 30.
735 Nod Hill Road Wilton, CT Phone: 203-834-1896
Home to three generations of American Impressionist painters, Weir Farm is the only national park dedicated to American painting. Discover this creative landscape guided tour of the Farm; check out the Stone Wall and meadows. See for yourself the artistic legacy of this nationally treasured site at the indoor art galleries. Enjoy park activities like fishing, swimming, and hiking; then stroll the gardens at sunset for a spectacular show of floral beauty!
Maps and more information.
Hours:
Grounds open year-round, daily, dawn to dusk; Visitor Center open May through November, Wednesday-Sunday, 10 a.m.-4 p.m.
Admission:
Free.
5774 Main Street Stratford, CT, 06614 Phone: 203-381-2046
This former homestead of the Boothe Family from 1663 to 1949 covers 30 acres and includes several buildings that exhibit antique farming tools, carriages, and old trolleys. Visitors are welcome to use the picnic grounds and enjoy the rose garden.
Hours: Park grounds are open year-round, 9 a.m.-5 p.m. Museums and displays are open June 1 through October 1, Tuesday-Friday, 11 a.m.-1 p.m.; Saturday-Sunday, 1-4 p.m.
Admission: Free.
Lockwood-Mathews Mansion Museum
Mathews Park, 295 West Ave. Norwalk, CT, 06850 Phone: 203-838-9799
America's first chateau; 62-room Victorian palace with stenciled walls, inlaid woodwork and skylit rotunda; gift shop. National Historic Landmark. Guided and audio tours.
Hours: Early April-early January, Wednesday-Sunday, noon to 4 p.m.
Admission: Adults, $8; seniors and students, $5; children under age 12, free.
Information: www.lockwoodmathewsmansion.com.
Bush Holley House
39 Strickland Road Greenwich, CT Phone: 203-869-6899
The circa 1730 National Historic Landmark Bush-Holley House was home to Connecticut's first art colony. The site was the home and business headquarters of colonial merchant and mill owner David Bush, his wife Sarah, their children and their slaves. From 1890 to 1920, the house was run as a boarding house and was a gathering place for artists, writers, and editors.
Hours: Hours change seasonally; call ahead or consult website.
Admission: Adults, $10; seniors and students, $8; children under age 6, free.
Information: www.hstg.org.