Fairfield/Southwest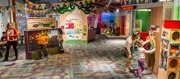 Matthews Park - 303 West Avenue Norwalk, CT, 06850 Phone: 203-899-0606
A "wow" experience for all ages, even adults!
Stepping Stones Museum for Children in Norwalk, Conn., our mission is to inspires lifelong learning. We do that with fun and fascinating exhibits and outdoor spaces. Wander about our garden and listen while whimsical sculptures use sun, wind, and water power to produce musical sounds. In our Energy Lab kids are mesmerized by a raceway powered by water, or when balls are whisked away down a wind-powered maze. They'll learn about evaporation first hand by painting with brush and water, and then seeing their paintings disappear. We have exhibits designed for all ages ten and under, including toddlers and infants. Adults will be fascinated, too.
Beardsley Zoo
1875 Noble Ave. Bridgeport, CT, 06610 Phone: 203-394-6565
This zoo exhibits hundreds of animals, from tigers to monkeys and everything in between. Habitats for children to explore include a South American rainforest and a New England farmyard. For quite time, there is a picnic grove, carousel, Victorian greenhouse, and café. Summer programs include Animal Tales and A Day at the Ocean.
Maritime Aquarium at Norwalk
10 North Water St. Norwalk, CT, 06854 Phone: 203-852-0700
Kids and parents can visit nose-to-nose with sharks, seals, river otters, wrinkly sea turtles, and stinging jellyfish. Educational public cruises, changing exhibits, a working boat shop, hands-on touch tanks, toddler play area, and an IMAX movie theater with a screen that's six stories tall make this a place of seafaring adventure.