Travel information - Fairfield Connecticut beaches, lakes, ponds
Calf Pasture Beach
Calf Pasture Beach Road, off I-95 at Exit 16 Norwalk, CT Phone: 203-854-7806
Open May to October, daily. Parking fee charged
Part of Norwalk Harbor, this beach and recreation area is open for swimming, boating, fishing from a pier, and clam digging. Playing fields for volleyball, bocce, basketball, softball. There is a skate board park. Many tree-shaded picnic tables; the picnic areas at Shady Beach -- which is just a bit east from Calf Pasture Beach -- have grills. Food concessions are open in the summer.
Season & Hours: May to October, daily, 7 a.m. to 11 p.m.
Parking fee: Free for Norwalk residents who have obtained a pass. Non-residents: $25 a day on weekdays; $30 a day on weekends; $10 after 5 p.m.
Seaside Park Beach
Barnum Dyke, Off I-95 at Exit 27 Bridgeport, CT Phone: 203-576-7233
Open: Memorial Day - Labor Day
Beach with a picnic area, food concession, bathhouse and restrooms.
Fees:
Day passes are $20 for vehicles with Connecticut registration and $40 for cars with out-of-state registration. Annual passes are $10 for CT registered vehicle and $100 for non-resident vehicles.
Learn more.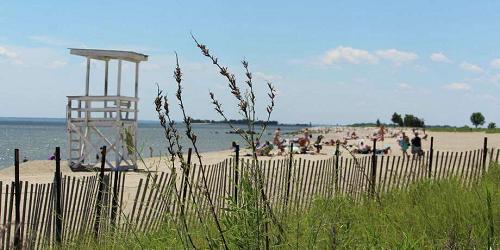 Off I-95 at Exit 18 Westport, CT Phone: 203-226-6983
Swimming and fishing beach a short drive from New York; rocky beach has sharp stones; footwear needed; lifeguards on duty Wednesdays through Sundays
State park features a sandy beach, fishing areas, food concession, bathhouse, and swimming areas. Have a leisurely lunch in the picnic grove, swim in Long Island sound, or view marsh life from the observation platform. Because of the sharp rocks and shells at West Beach, visitors are urged to wear beach shoes. East Beach, which has lifeguards on duty from 10 a.m. to 6 p.m. each day. Surf and shore fishing are allowed outside of swimming areas.
Park fees: Weekends, $20 for residents and $30 for non-residents. Weekday fees are $14 and $20. Fee is $10 after 4 p.m.
880 South Benson Road, off I-95 at Exit 22 Fairfield, CT Phone:
Sandy beach on Long Island Sound; parking fee Memorial Day to Labor Day
Large sandy beach with great views of Long Island Sound. Great for families. Lifeguards are on duty during the summer season and swimming lessons are offered . The property is near the South Benson Boat Marina, and the Henry Rowland Memorial Playground, which has a Sand Castle Playground and a Skate Park. Beach is wheelchair accessible. It has concession stand, bathrooms, volleyball poles and sailboat racks. Special events at the beach include watching July 4 fireworks, attending the foru-per-summer Bonfire on the Beach. Dogs allowed on the beach October 1 - March 31.
Fees:
Memorial Day weekend to Labor Day, a
beach sticker
is required to park in the lot. Vehicles without a sticker must pay to park from 10 a.m.-8 p.m. Fee is weekdays, $20; weekends and holidays, $50. Fees collected at the gate.
Nearwater Lane, off I-95 at Exit 27 Darien, CT Phone: 203-656-7325
Beach amenities include public grills, picnic areas, tennis courts, restrooms. Reservations are required for the tennis courts.
Fees: Parking permits are required Memorial through Labor Day. Fees are resident vehicle, $40; senior residents, one free per family; non-resident taxpayer, $70; summer residents, $100; beach day pass, $40; boat launch, $45; daily boat launch, $65
Dorne Drive Stratford, CT Phone:
Short Beach is located adjacent to the mouth of the Housatonic River, and it provides recreation for citizens of all ages. The northernmost section provides handicapped access to the beach as well as least tern and piping plover nesting areas. Fisherman also use the marine basin to fish for snapper bluefish during the summer months. Farther south on the beach are picnic areas, a calisthenics course, a playground, and a sandbox. A concession stand/shower is located on the beach.
Penfield Beach
Fairfield Beach road, off I-95 at Exit 22 Fairfield, CT Phone: 203-256-3010
Open: Memorial Day - Labor Day
Beach amenities include a playground, picnic area with public grills, food concession and restrooms.
Daily parking fee:
week days, $20; weekends and holidays, $50. Learn more about
seasonal stickers.