Connecticut Diners
Diner food, architecture, and culture are alive and sizzling in diners throughout New England. Providence, RI, is the undisputable home of the diner. In 1872, Walter Scott, a worker at the Providence Journal, began selling food at night from a horse-drawn freight wagon outside the newspaper's building. Soon, entrepreneurs began buying streetcars and converting them to diners. The Worcester Lunch Car Company of Worcester, MA, built diners that opened all over the East.
Fast food companies whacked the diners starting in the 1950, but a diner revival got underway in the 1970s. Today, hometown diners serve all the classics, with local flair: baked beans and Boston cream pie in Boston, blueberry pancakes and lobster rolls in Maine, maple syrup in Vermont. Find diners in CT, Maine, MA, NH, RI, and VT.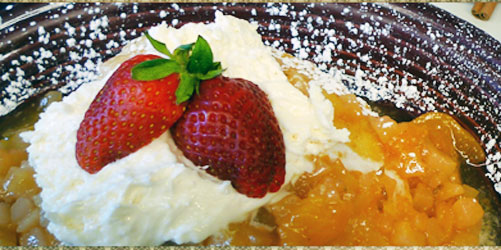 DAYVILLE
Zip's Dining Car
Corner of Route 12 and 101 at exit 93 off I-395
Dayville, CT
Hours:
Open 7 days a week from 6 a.m. to 9 p.m.
Information:
860-774-6335 or visit www.zipsdiner.com
Zip's is a legendary dining car serving up the area's finest meals since 1954. Breakfast, lunch and dinner are served by a very friendly wait staff. A belly-buster three-egg omelette, chicken fried steak, and homemade strawberry shortcake are just few delicious favorites. Zip's is centrally located between Hartford, Providence, and Worcester.

ENFIELD


The Country Diner
111 Hazard Avenue
Enfield, CT
Hours: Monday, 6 a.m.-2 p.m.; Tuesday through Saturday, 6 a.m.-9 p.m.; Sunday, 7 a.m.-2 p.m.
Information: 860-763-5338 or visit www.thecountrydiner.com
Serving breakfast, lunch, and dinner. Comfort foods, barbeque, and more. Breakfast is renowned county wide and served all day. This is an authentic American diner experience with great food as you like it. The wait staff is friendly and the menu is huge, with lots of choices. If you can't find something to eat on this menu, you're probably not hungry.

GROTON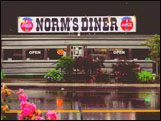 Norms Diner in Groton CT
171 Bridge Street
Groton, CT
Hours: Opens daily at 5 a.m.
Information: 860-405-8383 or visit www.facebook.com/NormsDiner/
This classic greasy spoon is housed in an iconic dining car, complete with counter stools, mint-green decor and a friendly chef who always works the night shift. Try the Sailor's Delight breakfast (it comes with beans). The Patty Melt and other hot sandwiches are classic. Short hours during the week but open 'round the clock on the weekends. Serves breakfast, lunch, dinner and coffee.

MIDDLETOWN


O'Rourke's Diner
728 Main Street
Middletown, Connecticut
Hours: Daily, 6 a.m.-3 p.m. Diner does not serve dinner.
Information: 860-346-6101 or visit www.orourkesmiddletown.com/
The menu offers quite a variety, featuring dishes with traditional American classics and a strong Irish influence in specialties like Dubliner Omelet, corned beef hash, and Irish Soda Bread (all baked on the property). Daily breakfast and lunch specials show off the creative expertise of the kitchen. Special dishes are the steamed cheeseburger — a Connecticut passion — 3-way chili "Seeley style" (named for the diner's most devoted patron), and a tuna smelt.

NEWINGTON


Olympia Diner
3413 Berlin Tpk
Newington, CT
Hours: Daily 6 a.m.-midnight
Information: 860-666-9948ov http://olympiadiner.net
Olympia diner is a true American road food classic. Whether you're cruising across the country or you live just down the road, you'll find hospitality and quality food in a clean and comfortable atmosphere. Serving local diners and travelers for over 50 years. Guests will find daily lunch and dinner specials, jukeboxes in every booth and free Wi-Fi, counter service, wine, beer, and cocktails. Call ahead for take-out orders.

NEWTOWN


Blue Colony Diner
Exit 10 off I-84 East and West
Newtown, CT
Information: 203-426-0745 or visit www.bluecolonydiner.com/
A classic diner on the outside has been freshened up on the inside with lots of table service in addition to counter service. Serving home-made bakery goods, desserts, steaks, chops, fresh seafood, beer, wine, and cocktails. Take-out service; buses are welcome.

NORTH CANAAN


Collin's Diner
Routes 44 and 7
North Canaan, CT
Hours: Monday, Tuesday, Thursday, Friday, Saturday, 5:30 a.m.-4 p.m.; Wednesday, 5:30 am-1 p.m.; Sunday, 6 a.m.-4 p.m. Call for extended summer hours
Information: www.collinsdiner.com
Established in 1941, this is a classic diner in every best way possible. Named one of New England's top diners by the New York Times. "Best Blue Plate" – says Connecticut Magazine. Occasional art shows and poetry nights.

NORTH WINDHAM
Aero Diner
361 Boston Post Road
North Windham, CT
Hours: Monday and Tuesday, 6 a.m.-8 p.m.; Wednesday-Saturday, 6 a.m.-9 p.m.; Sunday, 7 a.m.-9 p.m.
Information: 860-450-1959 or visit http://aerodiner.com/
Classic '50s-style diner in very good condition with friendly and helpful waitresses. Standard goos diner food (the club sandwiches are good and huge; thick shakes; hand-cut French fries) and children's menu. Customers go back again and again.

SOUTHBURY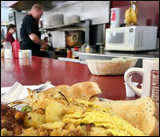 Laurel Diner
544 Main Street South
Southbury
Phone: 203-264-8218
This is a traditional, small, busy hometown diner that is clearly a local favorite. Corned beef hash is the signature dish at this understated Connecticut diner. For lunch, customers favor the BBQ bacon and onion ring burger. Vegetarian choices include the Laurel Omelet, with spinach, red bell pepper, mushrooms, and feta cheese.

VERNON


Vernon Diner
453 Hartford Tpke
Vernon, CT
Hours: Open 24 hours a day; seven days a week.
Information: 860-875-8812 or visit http://vernondiner.com
Daily soups and specials, home-made desserts, outdoor patio dining. Very large portions of hearty diner food. Great breakfast, especially the challah French toast. Serves breakfast, lunch and dinner.

WEST HAVEN


Georgie's Diner
427 Elm Street
West Haven, CT
Hours: Monday-Sunday, 7 a.m.-11 p.m.
Information: 203-933-1000 or visit www.georgies-diner.com
Georgie's Diner is classic 1950s in style, with excellent and well-loved dishes like home-style meatloaf and poached eggs. The diner offers a full range of specialty dishes including pork chops, roasted chicken, chicken Parmigiana, and chicken Tuscany. Georgie's also caters to people on a limited diet, in particular offering vegan and gluten-free dishes (a separate fryer is used for these orders). Vegan dishes include tempeh Reuben, falafels, and organic malibu burgers.
Georgie's Diner was built in 1956 in New York. Its first stop was in Stratford, CT where it was named Duchess Diner until 1967. It was then moved to its current location in West Haven and was renamed Elm Diner. Through the decades, the diner has been a meeting place in the community and a little piece of West Haven history. It fell into disrepair, but in the summer of 2009, the building was completely restored and its doors were reopened on September 24.

WOODBURY and WATERBURY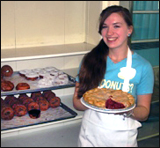 Dottie's Diner (original)
740 Main Street South
Middle Quarter Mall
Woodbury
Hours: Monday and Saturday, 6 a.m.-3 p.m.; Wednesday-Friday, 6 a.m.-8:30 p.m.; Sunday, 7 a.m.-3 p.m.
Phone: 203-263-2516

Dottie's 2 146 Grand Street
Waterbury
Hours: Monday-Friday, 7 a.m.-3 p.m.
Phone: 475-235-2482
Welcome to Dottie's Diner, the deluxe destination for delicious donuts, serving made-from-scratch breakfast, lunch, and dinner menus. This family-friendly atmosphere is inspired by images of the 1950s. Best bets include coffee cake, chicken pot pie, meat loaf, and lemon meringue pie. Connecticut Magazine has called these the state's best donuts. Open daily at the Woodbury location and weekdays at the Waterbury location.
Diner Slang
Some diner slang –- like cup of Joe for a cup of coffee -- is mainstream American English, but much of this unique language appears only as background chatter in film noir. On your next diner run, try a few of these on your soup jockey , or waitress:
java = coffee
sun kiss = orange juice
baby juice = glass of milk
life preservers = doughnuts
Adam and Eve on a raft = two eggs on toast
blowout patches = pancakes with Vermont = maple syrup
Want your eggs scrambled? Tell the waitress to wreck 'em .
A shingle with a shimmy and a shake = is toast with jelly.
For toasted English muffins, say: burn the British.
If you are in the mood for risk, tell the waitress to sweep the kitchen or clean up the kitchen and she'll bring you a plate of hash.
Lunchtime? Try a Noah's boy = Ham on bread, or a ham sandwich.
For a hamburger with lettuce, tomato, and onion, your waitress may tell the cook
to burn one, take it through the garden, and pin a rose on it.
cow paste for butter
dog soup for a glass of water
M.D. for a Dr. Pepper
sea dust for salt
Mike and Ike for salt and pepper shakers
If this list doesn't cover your dining needs, the American Diner Museum can tell you much more.