Cross country skiing in Connecticut is abundant in state parks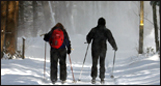 The hilly state forests and state parks of Connecticut offer lots of places to get out on cross country skis. At least one downhill (Alpine) ski area offers groomed trails and equipment for Nordic skiing. Many Connecticut state parks and forests allow Nordic skiing on their multi-purpose trails, but don't count on finding supports like equipment rental, lodges and warming huts, or food. Bring your own gear. Find a park
here.
Winding Trails Cross Country Ski Center
50 Winding Trails Drive Farmington, CT, 06032 Phone: 860-677-8458
20 kms of trails, groomed daily, travel through 350 acres of woodlands; marked trails; sledding; tubing; ice skating
Family-friendly Nordic ski area offers 20 kilometers of groomed trails in woodlands. Trails for all levels of skill. Snowshoeing not permitted on trails. Equipment rentals and retails sales. Center also rents pulk sleds for children and tubes for snow tubing. Tubing and sledding allowed on summertime soccer and softball fields. It is a 150-foot hill with a slope of 20 degrees. Bring your own sled; tubes available for rent.

Lodge with wood stove; snack bar. Season is mid-December through Mid-March, depending on snowfall. Open daily, 9 a.m.-5 p.m. Information: www.windingtrails.org/
White Memorial Conservation Center
80 Whitehall Road Litchfield, CT, 06759 Phone: 860-567-0857
Conservation area welcomes Nordic skiers on trails; bring your own equipment and supplies
This conservation area has 35 miles of trails open year-round for hiking, biking, cross-country skiing and horseback riding. Good assistance from a color-coded trail map. Guided tours of the woodlands are offered on occasion throughout the winter. For skiers, there is no trail grooming, lodge, or rentals. Bring you own equipment. Information: www.whitememorialcc.org/index.html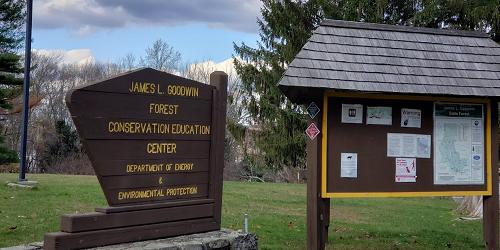 off of Route 6 at 23 Potter Road Hampton, CT Phone:
Great for hiking on short or long trails; enjoying nature; a boat ramp is available
Cross country skiers are welcome on the very extensive trail system of this forest. One trail, along an old railroad bed, is level and particularly well suited to XC skiing (not groomed). Trail maps are available at the nature center on the property.
See
full description
of James L. Goodwin Forest.