Mystic Connecticut offers many options for a romantic meal
One Railroad Avenue Essex, CT, 06426 Phone: 860-767-0103 Toll-Free: 800-377-3987
Make any occasion special
All aboard the elegant Essex Clipper Dinner Train for a four-course meal served in beautifully restored 1920's Pullman diners, pulled by a vintage diesel locomotive. Relax and reconnect while our 2½-hour, scenic journey soothes away the stress of everyday life. The rhythm of the rails and our attentive staff transport you back to the day when rail travel was king and "dinner in the diner" was a delicious special occasion. From May through October.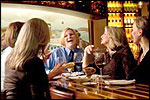 36 Main Street Essex, CT, 06426 Phone: 860-767-1776
Cozy, period settings and imaginative cuisine combine at this historic inn
The romance of dining at The Griswold Inn, in delightful Essex Village, begins with the inn itself. Serving up impeccable hospitality since 1776, the inn's cozy, warm-woods interior exudes character, charming guests in its historic dining rooms, lively Taproom and elegant Wine Bar. Menus range from classic American cuisine in the dining rooms and Tap Room to imaginative tapas, small plates, artisanal cheeses and delectable desserts in the Wine Bar. Whether you seek the live music and spirited atmosphere of the Tap Room (named one of the top 100 bars in America by Esquire) or a quiet corner for two in the sophisticated wine bar, or enjoying comfort food and conversation in the art-filled historic dining areas, "The Gris" has the perfect setting, and meal, for you.