Year-round festivals of music, food, and more in Mystic CT
Mystic Seaport, Greenmanville Avenue Mystic, CT Phone:
June 8-11, 2017
Hear sea chanteys from many cultures and learn how they helped coordinate work on ships during this one-of-a-kind sea song event that has been a Mystic Seaport tradition since 1979. The Sea Music Festival features performances at various locations throughout the grounds of this living history maritime museum. Concerts on Thursday, Friday, and Saturday nights.
All workshops and daytime concerts are included in Mystic Seaport admission of Adults, $26; senior over age 64, $24; youth ages 6-17, $17. Evening concerts are $32 for adults and $24 or youth.
Strawberry Park, 42 Pierce Road Preston, CT Phone:
June 8-11, 2017
The three-day festival of music, dance, food, and camping welcomes Geno Delafose - The Pine Leaf Boys - Dennis Stroughmat - Rusty Metoyer and The Zydeco Crush - Wayne Same ol2 Step - Jesse Lege - Steve Riley - Magnolia - Jimmy Jo & the Jumbol'Ayauhs - Zydegroove - C'est Bon - Leroy Thomas & the Zydeco Roadrunners. Admission: $60, $80, $85, $160.
Strawberry Park, 42 Pierce Road Preston, CT Phone: 860-886-1944
June 1-4, 2017
This annual festival promises a handful of first-rate bluegrass artists as well as musicians' workshops, onsite camping, children's activities and more. Camping in the rough is available.
Schedule of performances
Florence Griswold Museum, Lyme Academy College of Fine Arts & Lyme Art Association, 96 Lyme Street Old Lyme, CT Phone: 860-434-5542
July 29, 2017
Old Lyme's Midsummer Festival is a town-wide celebration of the arts. The celebration takes place at the Florence Griswold Museum, the Lyme Art Association, and the Lyme Academy College of Fine Arts. A favorite event of the day is Market En Plein Air at the museum. This outdoor market features Connecticut-grown flowers, fruits, vegetables, breads, fine cheeses, herbs and specialty foods in a setting modeled after outdoor markets in French villages. Also enjoy the artisan fair, outdoor concert, author talks and sidewalk sales. Time: Friday, 5-9 p.m.; Saturday,9 a.m.-3 p.m.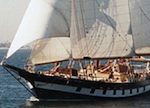 Waterfront area New London, CT Phone: 860-443-3786
July 7-9, 2017
Sailfest has a major fireworks display, amusement rides, free entertainment, Tall Ships, and 200 vendors lining the downtown streets. Sailfest produces multiple stages of free entertainment with musical genres ranging in rock, Celtic, hip hop, and blues. Children's show and entertainmetn at the City Pier stage. On Saturday night, Sailfest showcases a huge fireworks display above the Thames River, visible from downtown New London and from Groton. Time: Friday, noon to 11 p.m. in Waterfront Park; Saturday, 10 a.m.-11 p.m.; Sunday 9 a.m.-6 p.m.