Two Bridge Street Old Saybrook, CT, 06475 Phone: 860-395-2000 Toll-Free: 800-243-0212
Relax, unwind, enjoy the water views from this luxury inn
Tranquility awaits you at Saybrook Point, where lodging options range from cozy rooms and spacious suites in the main inn to accommodations for up to 16 in two historic Italianate guesthouses. Or, for those who truly want to get away from it all, there's the lighthouse suite on the main dock, with breathtaking views of Long Island Sound and the Connecticut River. Saybrook Point amenities include the luxurious on-site Sanno Spa, fitness center, indoor and outdoor pools and an award-winning restaurant (don't miss the astonishing Sunday brunch). Whether you are viewing the sun set over the water next to a rooftop fire pit or watching boats come in to the marina from your spacious suite, relaxation will be yours.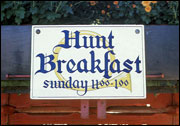 36 Main Street Essex, CT, 06426 Phone: 860-767-1776
Fabulous Hunt Breakfast one more reason this Connecticut inn is famous
It's "the most famous brunch in Connecticut," according to The New York Times. But at The Griswold Inn, which opened its doors during the Revolutionary War, Sunday brunch is more than that: It's tradition. The famous Hunt Breakfast at "The Gris" began when the British commandeered the inn during the War of 1812. Today, it is still a royal feast, featuring a varied menu that might include baked cornbread and scones, stations for omelets and Belgian waffles, salads, pasta, herb-roasted chicken, baked cod – and a pecan and caramel French toast souffle and chocolate brownie pudding. It's beautiful to look at, set amid the warm splendor of the historic inn, and even more of a treat to sit down, pick up a fork – and enjoy.