Bed and breakfasts of Mystic, Connecticut, are a cozy haven
Bed and breakfasts of the Mystic area of Connecticut are intimate, wonderfully furnished, and often of a historic character. Often located in elegant old homes, these CT bed breakfast establishments of four to 12 rooms are found in the coastal and inland towns of the Mystic region. Some offer wonderful waterfront views and others are a quick drive from the Foxwoods and Mohegan casinos. Breakfast at these establishments is often elaborate, and proprietors are usually happy to share some local history and tips on attractions and places to dine and shop.
60 Grand Street Niantic, CT, 06357 Phone: 860-739-0331
Enjoy great views with breakfast at Harbor Hill
Can you picture yourself savoring a summer breakfast on a wraparound porch overlooking an historic seaport? That's a typical morning at the Inn at Harbor Hill Marina, a waterfront B&B in rustic Niantic, Conn. Our inn includes two neighboring turn-of-the-century buildings, the beautifully-restored Main Inn and the Captain Clark House, a remodeled Victorian. In both, you're guaranteed a room with magnificent waterfront and nautical views. And many rooms also offer special amenities - king-size beds, fireplaces, soaking tubs, or private balconies. You'll love our complimentary breakfast, served indoors or out. Signature recipes include pecan-baked French toast with praline topping and ham and egg strata. We're a member of Select Registry, and B&B.com has listed us as one of the Top Ten Inns in the US.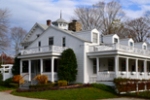 138 South Main Street Westbrook, CT, 06498 Phone: 860-399-4634
Historic charm and amenities on the Connecticut Shoreline
This charming coastal New England lodging is a former sea captain's house built in 1872 with its own stunning cupola. Individually decorated rooms (some in the adjacent 1930s barn) offer traditional furnishings, a guest fridge, WiFi access, a desk, and comfortable sitting area. The common room has a TV, a pool table, games and jigsaws, and fireplace. Enjoy a two-course complimentary breakfast featuring homemade pear bread, lemon cloud pancakes with fresh blueberry sauce, and thick sliced bacon. Relax in a cozy rocker on the large front porch and gaze upon the garden and gazebo. You're just 6.8 miles from the Connecticut River Museum, nine miles from Hammonasset Beach State Park and within easy reach are quaint villages, restaurants, and boutiques.