Inns of Hartford Connecticut provide intimate lodgings
When a lodging is called an inn you can usually count on a smaller and more home-like dwelling, with a strong element of graciousness, quiet elegance, and upscale hospitality. Many inns in the Hartford area of Connecticut are historic, furnished with antiques or reproductions that surround visitors with the sense of earlier eras. A visit to a CT inn is a restful retreat.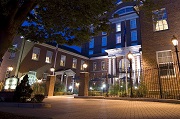 7 Main Street Middletown, CT, 06457 Phone: 860-854-6300 Toll-Free: 800-637-9851
The elegance and natural beauty of Connecticut greets you here
The Federalist architecture and gorgeously curved lobby stairway alert you right away that you have arrived at a place of elegance and distinction at the Inn at Middletown. In the beautiful and historic Connecticut River Valley, the Inn dates from the 1800s and is just blocks from Wesleyan University and near Essex Village and other shopping- and dining-rich places. Lavish guest rooms spoil you with Colonial-style mahogany furniture, classic paintings, and fine upholstery. The Executive Suites add makeup mirrors, shoe buffer, and plush bathrobes. The Inn's Tavern at the Armory serves American cuisine with a New England twist. On cool days, the Tavern Pub offers the warmth of an open fire and many microbrews. Local fun is provided by Lyman Orchards Golf Club and the Goodspeed Opera House.